Advertisements
As of January 2012
Yes, I Am Cheap is a personal finance blog with a Google Page Rank of 5, a January three-month Alexa worldwide rank of 114,000, and growing readership interested in finance topics. We are now accepting text and graphic ads that are tasteful and in line with personal finance, credit cards, debt reduction, real estate, taxes, investing, insurance, saving money, increasing income, freebies and free trials.
Visitor Demographics
According to Alexa.com, our readers are typically the following:
Gender: Female
Age: 25-34
Education: College Educated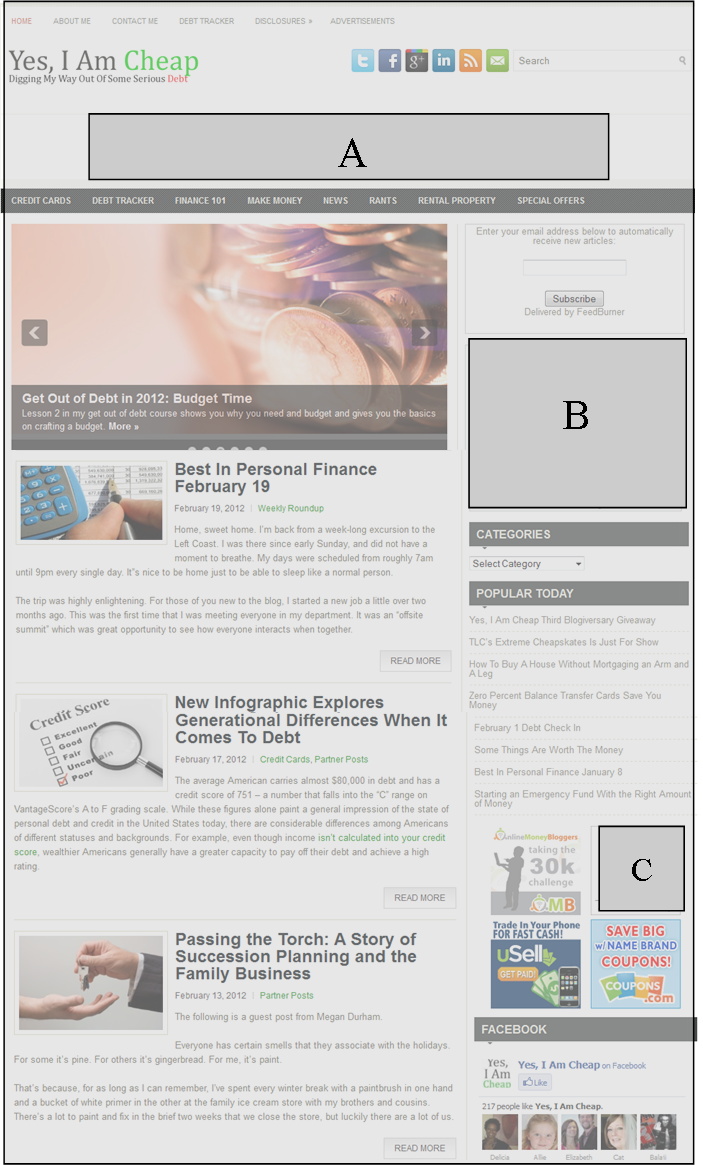 Yes, I Am Cheap offers multiple ways to build your brand and get your message to our loyal readership.  Ad buys are sold on a per month period using PayPal.  Some ad buys require a one year minimum.
728×90 Premium Ad Sponsorship
The 728×90 ad appears on the top of every page, next to the blog title. Only three ad rotations are available.  The banner can not be bigger than 15K in size.  Animation allowed but no Flash.
125 x 125 Ad Sponsorship
The 125×125 button appears on the sidebar. Only eight spots are available.  The button can not be bigger than 15K in size. Animation allowed but no Flash.
300 x 250 Ad Sponsorship

The 300×250 button appears on the sidebar. Only 4 spots are available.  The button can not be bigger than 22K in size. Animation allowed but no Flash.
Text Ads
Please be aware that we try to stay within compliance of Google's rules with regards to text advertisements.  Text links can be displayed sitewide, on front page only or on individual posts.  Please contact us for details.
Sponsored Review Advertising
This advertising option is at my discretion only.  This option combines a review of your product, and direct linking to your site.  I will do an absolutely honest review of your site that will not be swayed by how much you have paid.  No other ads will be displayed on your page.  Sponsored reviews receive at least 12 hours as the top front page post. This  gives your review maximum exposure to our readers.  Please enquire for more information.
Sponsored Post Advertising
This advertising option is at my discretion only.  This post might be written by either you or me and may include links to your site and/or products.  Sponsored posts must have a byline.
Twitter Pay Per Tweet
I have recently established a Twitter account @yesiamcheap with over 1,000 Twitter followers interested in personal finance, saving money, special offers and debt reduction. You can sponsor a tweet by contracting with us through Sponsored Tweets or by contracting directly with us. Should you choose to advertise through Sponsored Tweets their rates and terms apply. We are affiliated with, but act independently from Sponsored Tweets.
Terms
You may purchase ad space instantly using ad functions displayed below. Ad unit is displayed only if open inventory exists. Individual monthly price is displayed, however discounted rates for 6-month and 1-year terms are also available and will be displayed when logged into the advertising platform. You may upload images, specify links, and arrange for payment directly. Should you prefer another method, please contact me using the forms below.
Advertising fees must be paid in advance and are non-refundable. Payments accepted by check or PayPal only. I reserve the right to reject or remove any ads with or without case. You will be reimbursed a pro-rated fee in the rare event that your ad is removed.
I do not accept advertising for  firearms, hunting or adult material.
All image ads must not contain objectionable material. Image ads may be animated but can not contain Flash.
Your advertisement is valid for the period noted in your invoice and will not automatically renew.
Upon expiration, your advertisement will be removed from the site without prior notice to you.
Your advertisement will be placed only on the page(s) noted on your invoice and will not be displayed elsewhere.
You have a period of seven calendar days from the date of the invoice to express any dissatisfaction with the advertisement. You may request a full refund within the seven days noted. After that period the advertisement is considered valid and will remain as is until the expiration date. You will not be granted a refund of any kind after the grace period of seven days has elapsed.
Payment of the invoice constitutes agreement to all terms and conditions.
Prices listed on this site are subject to change without notice.  We reserve the right to correct any errors.
Please use the form below to contact me, or e-mail pr[at]yesiamcheap[dot]com.  Thank you in advance for your inquiry.