As usual there are no resolutions for this blog, but we are going to take a look back on 2013 to review how I did with my finances.
I began 2013 owing creditors exactly $144,224.79. It wasn't bad but it wasn't too good either. I really didn't have a goal number in mind to end the year with and so I plodded along just paying the overall debt down.
March 1 stuck and I was not so suddenly but very happily unemployed. While this didn't halt the debt repayment, it did slow down considerably.vThat was fine because I had planned for it. I had a decent severance  package, an emergency fund, passive income from my rental homes and income from this blog. Combined, it was enough to make me comfortable enough to take six full months off doing what I wanted to do.
I hung out with my family, traveled a little, renovated one of my rental homes' bathroom myself, evicted a drug dealing tenant, lost 20 pounds and launched a new business. It was an incredibly productive six month months that I wasn't really ready to end, but when a consulting opportunity popped up I decided to take it since it would last exactly 90 days – enough for me to replenish the savings a bit and pay down the debt a little bit more.
The 2013 year was the me year. The time that I took away from working for others was enough for me to confirm that working for others is not something that I want to do for the rest of my life. Entrepreneurship is definitely in my blood and if I don't make one more go at it I will regret it for the rest of my life. The thing is that I am now much more cautious then when I was when I started the business that got me into debt in the first place.
I want to be my own boss by age 40. That gives me 4 years and 4 months to my deadline. That has to be my debt payoff deadline because I can't go into this owing any debt. I am older, wiser and more cautious than I have ever been before. It's going to be pretty tough but I might be able to pull this off. Let's check out the debt and then we'll crunch some numbers.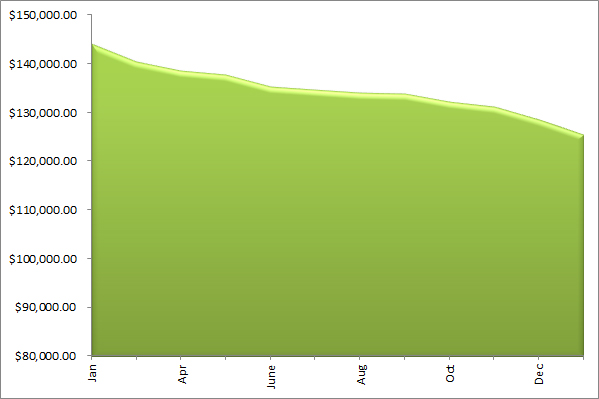 In the past month alone I have reduced my debt by $3,000 by pushing as much money as humanly possible to my debt.  In the past two months since I returned to work I have reduced the debt by over $5,800.  While that's impressive, it's not enough.
My contract is due to end on February 7 and I was seriously looking forward to that so that I could either go back to concentrating on my business for a bit or find a job that would allow me to work from home at least one day each week.  It appears as if I will continue to be employed after my original end date, but I am not counting on that being the case since the environment is rapidly changing. I should know more about that in the next few weeks.
The good thing about 2013 is that I was able to reduce the debt by $18,710.94. If I were to project that over 4 years I would have about $81,000 paid off by my retirement date. That will be great but it's not good enough.  My problem is that I keep making major purchases. The year 2012 had two major purchases (one of which was totally unplanned due to a car accident) which shoved my debt way up. That won't happen again.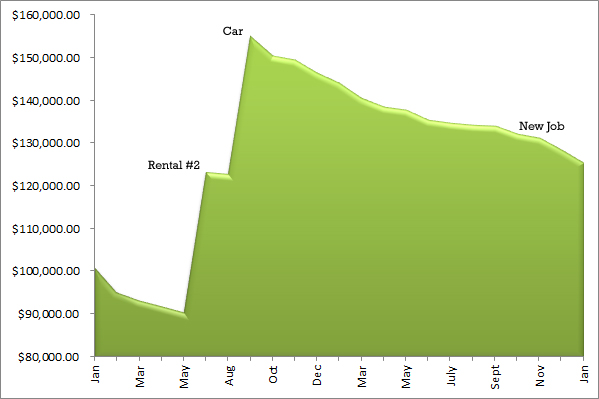 My original plan was to purchase a new rental home every two years. If I were to stick with that schedule I would be due to purchase a new home in the summer of 2014. That's not going to happen because I am shifting my focus strictly to the debt.
It's not that building a secondary income source isn't important to me, it's just that if I continue adding to my rental portfolio I will need either more time to manage the rentals or I will need a more solid team in place to take care of everything with the rentals. As it now stands the property manager is kind of lazy, but he is incredibly trustworthy.  It's hard to find someone with both qualities that also meshes well with my personality. So, no more rental units. Sigh.
If I am going to pay off the debt without additional income I will need to be reducing the debt by a minimum of $2,413.76 every month. I don't expect that I'll be able to do that through a job alone, which is why the income from this blog will be crucial.
In 2013 this blog had a net income of $13,070.47. That's not bad for a side business. If I made the federal minimum wage while working a 40 hour work week, that could conceivably be the amount that I would net from a year of working at such a job. Damn. While I do spend a decent amount of time on this blog per week, it's no 40 hours.  Plus, I took a trip to St. Louis this year for a blogger conference and deducted that cost from the gross. I don't know how families are living off minimum wage, but that's a whole different can of worms.
My expectation is that the blog won't make as much in 2014 because I am shifting the types of advertisements that I will be taking on the blog. But that's okay!  I'm looking forward to forming more strategic partnerships that will raise my profile. This can potentially allow me to earn even more money but it won't be on this blog. Remember there are tons of ways to indirectly make money from a blog. I plan on moving on to the next thing.
If I can make enough from working and combine that with the blog's income plus a little from my side business, I should be able to make my deadline…I think. It'll be close but I should be able to do it. Shooting for around $28,000 debt repayment per year is extremely aggressive, but I have done it before and I am extremely confident that I can do it again. The fact is, you can do it too.
With 2013 already in the rear-view mirror, 2014 is shaping up to be interesting. I am starting the year with no plan other than shooting for debt repayment of at least $2,500 per month. That leaves me completely open to new experiences and different things. Who knows if 2014 will be another me year as well. Whatever happens, cheers to 2013.  It's been fun old friend.
Join the newsletter
Subscribe to get our latest content by email.