August 1 Debt Check In
7 years ago
August 1 and I am feeling majorly burnt out.  It's not that it's the middle of summer and I'm pining for a trip to the beach, it's because I've had very little sleep for the past month.  I've spent the last month at work and on the weekends, renovating my rental home 2 states away.  It's draining but it might be coming to an end soon.  At the point I will finally be able to get some very much needed and deserved sleep!  But you're here to see how I'm doing with my debt aren't you? No excuses this month.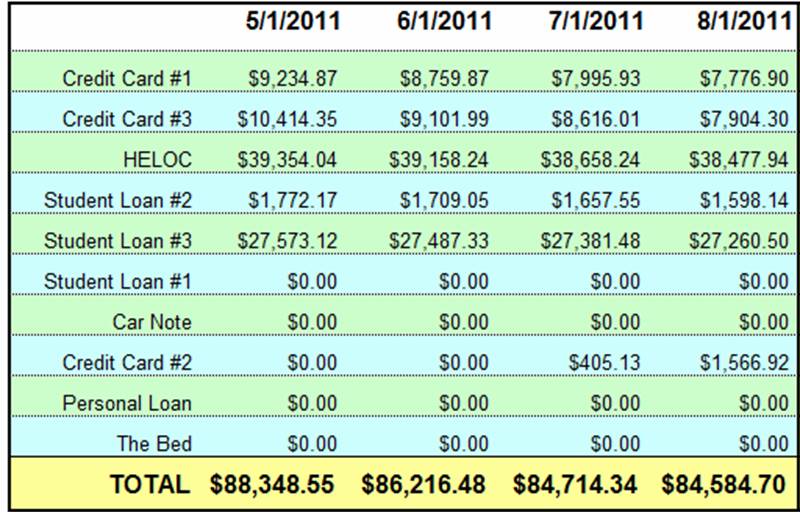 As you can see, I had a craptastic month.  My debt decreased by only $129.64 from the previous month.  But if you look closely there is one particular debt that caused the increase.  It was an $1,100 increase to credit card #2.  The cause of this increase was one thing – medication.  BF had medication purchases totaling $950 last month.  If you've been following along, you would know that he has no health insurance.  It can get incredibly expensive when you're in that situation.  It certainly isn't a sustainable predicament.  I'm waiting for this healthcare bill to kick in so that we can purchase coverage for him.
There were other things going on in July.  Most notably I am renovating the house that my tenant moved out of.  The total for the renovations will end up falling somewhere between $5,000 to $6,000.  I had not planned for this and those bills will be coming due pretty soon.   I've been good at paying as much as I could as I went along (thankfully from my now drained emergency fund) but I have about $2,000 in bills that will pop up any day now.
The house should be completed this weekend.  I've been doing much of it myself along with some really appreciated help from my SIL.  The guys are amazed that us chicks can do flooring, plumbing, carpets, the entire bathroom, etc., but watch out guys!  The girls are not sitting by the sidelines anymore.  If I had to pay a contractor for the work that I've been doing it would have cost me at least three times what I've spent.  I'm happy that I'm resourceful enough that I can handle some things myself and that I have family that will help.  But it hasn't been smooth sailing.  In fact, she's thinking about adding a series to her personal blog called, Renovations from Hell. Fun times, fun times.
Because of the renovations I've been incredibly tired.  I work all weekday and then on the weekends I make the 3 to 3.5 hour drive to my house.  We've been working in 100 degree temperature with no air conditioning.  Then we drive back on Sunday and it usually takes between 4 to 5 hours to get back.  By the time I get home I'm exhausted and have enough time for a shower, sleep, and to get right back to work.  To say that it's been difficult is an understatement but you do what you have to.  Because of this I've had virtually no time to write (sorry about that) and definitely no time to talk to advertisers.  You'll see the impact of that in how much I made in July.
I have had some positive things happen though.  The most notable one is that Time Magazine linked to one of my articles on extreme couponing which helped me get a bump in traffic.  I was also mentioned by CBS Moneywatch on their Twitter feed.  I'm not bragging.  I just want to share with you the evolution of this blog.  I started out not knowing what I wanted to do, and now legitimate news companies are mentioning this little 'ole blog.  Nice!
Alright, enough back slapping.  It's time to see how I did.  Remember, I might have earned it, but I might not yet have been paid for it.
Blogging Income
Google: $114.81
Adbrite: $1.96
Bidvertiser: $4.20
Sponsored Tweets: $0.06
Commission Junction: $3.40
Private Ads: $993.01
Total: $1,117.44
For the first time I made more than $100 in a month on Google.  This is a record amount for me.  I know, I know, you're tired of hearing that.  Everything on the list except for the private ads are very passive for me.  This means that I don't have to lift a finger to earn it.   If the blog is up here and people come and click on an ad, then it earns money.
The private ads income surprised me somewhat.  I didn't realize that I had earned that much because I have not been able to answer ad inquiries since I have been so busy.  I've used much of that money to help with the renovations.  So, thank you advertisers for your business.  By the way, a good chunk of that came from my new sponsor, Adaptu.   Adaptu helps you make a plan an tackle your debt.  If you don't have a plan you will never make progress.  I can honestly say that I don't accept ads from companies that I would not do business with.  Thus, I pass on some advertisers that approach me.  Scrupples will cost you, but it feels so good.
Now, I did a couple of things which you might not have noticed.  I removed a bunch of ads from the sidebar way over there to the right.  My goal is  to remove as many ads as possible without shooting myself in the foot.  I think that you deserve to see as little advertisements as possible when you visit me.  I'll continue to try removing more ads in the coming weeks as they expire.
What's up next?  Eh, who knows.  The goal is to not pass out, get my apartment rented, keep my hair and write some awesome articles for this blog.  How did your month go?  I hope it was better than mine.  Thanks for visiting.
Join the newsletter
Subscribe to get our latest content by email.