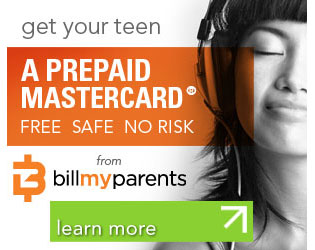 I don't think that I've ever endorsed a credit card before, but here's is my first one!  It's called the Bill My Parents Prepaid Mastercard and I'm in love with both this card and the entire concept.  As your kids get ready to go off to college, this might be the best thing invented to teach them financial responsibility, give them extra cash, and monitor their spending habits.  So here's how it works:
You load up the card with whatever money you want to give them. Grandma and grandpa or whoever else wants to give them money can load it up too.   You can do this manually or you can set up recurring deposits.  This is great for parents who want to give their kids a set amount every month, let's say to cover whatever incidents pop up in college.  Since it's a prepaid card, you can never go over the limit.  There's no risk of over limit fees or overdraft fees at all.  Since those are running at $30 a pop that's an instant peace of mind for you.
The card works everywhere that Mastercard is accepted which is just about everywhere under the sun.  Seriously, who doesn't accept Mastercard?
You can both monitor spending.  Both you and your kid can get automatic text alerts every time the card is used.  So, if you see that your son or daughter is spending money at Macy's when they should be at the book store, you can immediately make them return whatever it is that they bought.
This is the best part about this entire card: you can lock or unlock your kid's ability to use the card.  So, if they piss you off, *BAM*, no more money from the bank of mom and dad.  This can also work as a security feature, so that if the card is ever lost or stolen, you can immediately lock the card.
Okay, so we've seen other pre-paid cards before, right?  Remember the Kardasian Kard?  Remember all of the backlash because of the crazy fees?  Well, this is the other reason why I love this card.  Pre-paid cards are notorious for preying on people that can't get credit cards but need to build their credit by charging them crazy fees.  Here's the fee structure for the Bill My Parents Prepaid MasterCard:
As you can see, the fees are extremely reasonable and beyond competitive.  I can't endorse this card enough, especially since it's incredibly important to teach kids how to properly use credit before they begin racking up lots of debt as they head off to school.  I also like this card for individuals that need a prepaid debit card.  There's a large number of people currently using prepaid credit cards that pay a heck of a lot of fees because they either need to rebuild their credit or they need the convenience of a card but are unable to qualify for a traditional credit card.  Again, I've seen too many cards prey on these individuals.  One card that I won't name, **cough** Rush Card **cough** has approached me a number of times about endorsing their product but I wouldn't go anywhere near it because of the fees.
I genuinely see this particular card as a convenience for parents, a source of moolah for teens, and a learning lesson for both.  If you want to test it out they're offering a free trial for the first month. Hop over to Bill My Parents and get more info.
And just so you know, they didn't pay me for the endorsement.  They should though.
Join the newsletter
Subscribe to get our latest content by email.