Yes, this is late.  We're more than half way into the month and I am just getting around to writing this.  Now, in my defense, I warned you that Christmas season on my other site would be busy – if I got lucky – and it has been.  Good for me, sucks for this site.
Sleep.  Do you get sleep? I remember sleep.  I used to get like 6 hours every night.  These days I'm down to 3 to 4 hours.  My brother and I are pretty much working around the clock.  You know that old saying, "make hay while the sun shines"? The Christmas season is like Nevada in July.  After Christmas it will be an episode of Deadliest Catch in January.  We'll be fishing for customers in dangerous waters.
It's all good though.  Business is going well enough for my brother to rent a small office space.  It's amazing just how quickly you can out grow your basement.  So, for those of you on the fence about developing a side business, stop hesitating!  Get out there and exploit your talents.  Your side business might just outgrow your regular employment.
Just a reminder to new readers, the entire reason why this blog exists is to show you that a regular Jane can pay off a six figure debt on a  regular salary without filing for bankruptcy.  I have some of the same debts that you have: student loans, car note, credit card bills and a mortgage or two. I don't make a six figure salary and in fact, I'm just a lowly consultant at a cubicle farm. I'm just like you and I'm working my way out.
Let's check out the debt this month and see how it's going.
The Debt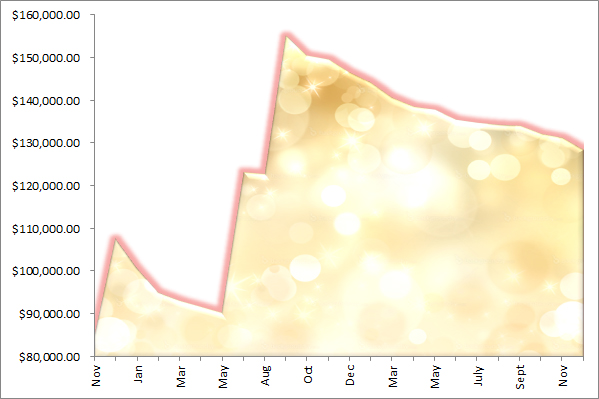 Yeah the debt took a nose dive last month falling by over $2,800.  A few things have happened.  I have not taken a check from my business.  Instead I have reinvested the money back into the business.  I did have a new tenant in one empty apartment, but that extra income went to pay taxes on the rental home.
What happened was simple: I took pretty much my entire pay from the job and pushed it directly to the debt.  I also transferred some free cash that I had sitting in my investment account at Prosper.com and directed it toward the debt as well.  What I lived on was income from this blog.  We'll get to that later.
The reason why I took the consulting gig was specifically to direct those funds to the debt.  I've almost been regretting it because the time that I spend at the consulting job it pulling me away from time that I really need to spend with my new endeavors.  But, I was hedging against the new business not taking off quickly.  I was wrong and it has.  So, should I leave the gig? Nope.  I made a commitment to the company to give them three months and I will honor that commitment.  It is important that I continue to be a woman of my word.   I could very easily be sitting here telling you that my new venture failed.  I would then have been smacking myself for not taking the job.
Back to the debt.  Okay, I really want to FOCUS on something next year.  I've been paying everything down, but there is something to be said for when a debt balance is actually zero. You just get a mental high when you look across the fields and that zero hits your eye balls.  You feel as if you have actually accomplished something.  Now, don't get me wrong, I love the fact that my balances are going down across the board, but it's just that WIN feeling that I'm looking for, you know?
I'm making money online too.  You want to see that, don't you?
Online Income
Once again, I'm not going to detail the income from my side business (this blog is a side hustle – don't get them confused) on this blog.  Apples and oranges.  Church and state.  All of that good stuff.
Google Adsense My Tenant From Hell: $0.31
Google Adsense Shirataki Noodles: $0.43
Google Adsense YIAC: $164.10
Google Adsense Niche Site: $523.16*
Private Ads: $302.50
Ad network #1: $97.20
Total: $1,087.70
My goal is to make a minimum of $1,000 per month from my blogs.  I made it this month by the absolute skin of my teeth!  I honestly have not paid attention to anything with the blogs this month.  I can't be in three places at once…and I really need sleep.  But, the work that I have put into this blog over the past five years is continuing to pay off as most of the income was completely automated.  The private ads were handled by my ad manager so I really didn't do anything at all.
If you look closely, there is an asterisk beside one number.  This indicates that this is the highest amount that I have ever earned from the site.  Again, this is a site that I built exactly two years ago and have not touched since then.  I paid one of my cousins who had free time on her hands to update a few pages and *boom* the income exploded.  Even so, it was still pulling in about $200 each month on its own.
When I was unemployed, all of these little side things plus my rental income combined to ensure that I did not miss the income from my job.  Well, I missed it, but I wasn't eating cat food or worrying about paying my bills or having a roof over my head.  I was fine.  You can be too.  You should never depend on your job for 100% of your income.  These days it is a very dangerous thing to do.  Find out what your talent is and exploit it to the maximum.  If you're good at building websites check out how I learned what a niche site was and how it could make me money every month.
Free Stuff For You
You might have missed some goodies that I gave out to my loyal readers earlier this month.  Every month I plan on doing a secret giveaway.  It will be whatever I can wrestle from sponsors or what I feel deserves your attention.  You will NOT be able to come to the site and see these offerings.  They're super secret giveaways and deals that you either have to an e-mail subscriber (sign up to the top left), Facebook fan or Twitter follower to get access to.  I might switch it up from one month to the next and offer the giveaway to only one type of follower.  So, the giveaway this month was for a free customized phone case from my web store.  I had two winners who got Christmas gifts for someone else.  Hi Kathleen and Lance!  Since only 7 people entered, the odds were seriously in your favor!  No more giveaways this month, but I do have something lined up for next month.
Speaking of free stuff, the great folks at Experian have launched a wonderful service called ProtectMyID which is an identity theft and data monitoring service. They have passed along codes for YOU to try this service for FREE.  Considering that Target just had a security breach that leaked millions of credit and debit card information to identity thieves, I can not stress how important this service can be for you.  So, in the spirit of the giving season, I'm giving five of you the ability to get a code to try this service for free for one FULL year.  All you have to do is leave a comment below or on Facebook or on Twitter saying how try to keep your information safe from ID thieves.
What I Learned This Month
I try to find a lesson in the good, the bad and the ugly of every day life.  What I've learned is that you never know which direction life can take you.  Yes, you can plot and plan as much as you'd like, but life has a way of sneaking up on you and doing exactly what it wants.
I reluctantly took the consulting job at the end of October knowing that it would end the first week of February.  I had a pretty rough transition from being my own boss for six months into moving back to a cubicle farm.  My private Facebook friends know that it was really not an easy mental transition for me and by the end of the first week I was already literally doing a daily count down until the day that it would end.
Well, they've just asked me to extend my time here for up to a year since the person who I was assisting has just resigned and the person who I was sitting in for might not return. What will I do? Well, I'm still mulling it over.  I'll give them an answer some time in January, but I have made it clear that I would stay here on my own terms.  Mentally, sitting in a cubicle for nine to eleven hours a day is just not something that I am willing to do anymore.  I can't take it.  Thankfully, they get it and understand.  Moreover, they know about this blog and that I eventually would like this to be my full-time gig.  They understand that too. You see, life might throw you curve balls; how you handle it is always up to you.
Have a wonderful holiday season and don't forget to leave a comment for a chance at winning a code from ProtectMyID!
Join the newsletter
Subscribe to get our latest content by email.