This post is pretty late by my standards.  I usually have this up on the first of the month, but not having a computer puts a damper on writing things that should go on the internet.  Better late than never, right?
For those of you just joining us, I like to hold my feet to the fire by recapping how I've done with my debt every month.  Since the entire reason for this blog is paying off my debt, it only makes sense that I share how I've done with you.  I also share how I've made money during the prior month.  It's important for me to share all of these details with you because of the following:
We all have debt.  Sometimes we think that it's overwhelming, but I want to prove that you can start with a 6-figure debt and actually work it down without filing for bankruptcy or doing something illegal.
I want to show that alternative income streams are still possible online.
I have nothing better to do.
Keep in mind that while the goal is to get to zero, everyone has set-backs and I am certainly no different.  Keep that in mind when we go through this month's number.  First, the debt.
Now, I had to recreate this chart since I broke my laptop and can't restart it.  I was able to recreate it since I share everything with you online.  It was just a pain in the arse to do it on iMac.  I don't want to start a MAC versus PC argument here, but I am seriously missing my PC.  I learned how to use a computer back in the ice ages of the 1980's on a MAC and even used one in college, but I wanted to rip my hair out while using BF's MAC to do this.  I just can't.
Oh, the debt.  Yes, it's below.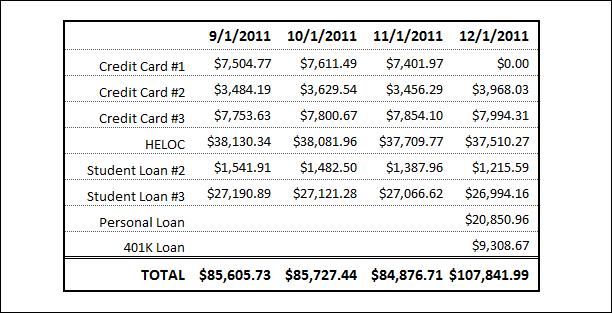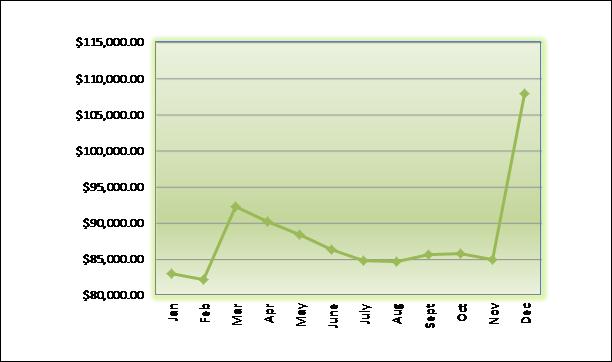 Don't write to complain about the image quality.  I'm working with tissue paper and duct tape here, so give me a break.  I lost a lot of programs.
Yes, there was a HUGE spike in the debt last month which put me back into 6-figure debt land.  I want to tell you why. If you remember, I posted an opportunity for you to invest in Prosper.com through a loan that I listed or myself.  I also stated that I would explain it during this post.  I needed a loan because I knew that I would quit my job.  If you've been reading, then you know that my last day was exactly one week ago.
When I purchased my investment property last year, I did not get  a mortgage.  Instead, I borrowed the money from my 401(K).  One of the benefits of that loan was that I would pay myself interest.  The drawback is that when you leave your employment you must pay the entire balance within 30 days of separation or the loan balance will be added as taxable income and subject to an early withdrawal penalty if you are younger than 59 1/2.  Considering that I'm a couple of decades younger than that, I'd have to pay tax and penalty on the balance.
Also, I have a couple of credit cards with balances on them.  They both have 0% offers expiring this month and I've just been offered new 0% incentives on them again.  But I wanted to just consolidate everything into one loan.  So, I put up a loan which was funded in two days!
That's the main cause for the spike in my debt balance.  I added the 401(k) loan to the debt tracker and I added the new loan as well.  The balance should drop next month once I pay off the credit card with the proceeds from the loan.  So don't flip out, the balance should go up by $10,000 overall.  🙂
On to how I'm making money online.  I'm showing the NET amount of my online money making efforts.  Remember that I might have earned it, but I might not have been paid for it yet.
Blogging Income
Commission Junction: $10.35
Sponsored Tweets: $29.14
Google: $188.31
Private Ads: $1394.31
Total: $1,622.11
Sponsored Tweets continue to pay off with the people that I've referred making some serious cash of their own.  It's nice to know that I'm helping other people make money…and then getting a referral fee for it.  At this point Sponsored Tweets is very passive.  I don't do  a thing for it.  Actually, so is the Commission Junction stuff.  I mention something in a post that pertains to the article that I think might be helpful for you and I make some cashola when you have a transaction through them.  Sweet!
Google has been pretty consistent.  I'm only 6 cents below what I made the month before.  Remember the niche site duel that I was challenged to?  Well, I registered the domain on November 1 (that's the www thing) and started building the site in November.  It did manage to earn me $4.76 in its first month (almost) of existence. Okay, that $4.76 won't change the world, but if it can make me say $50 a month, that's an extra $600 a year.  If you haven't seen it yet, check out Shirataki Noodle Facts and tell me what you think.  Remember it's new and I'm still adding information as I have time.  This whole no computer thing is putting a damper on things.
What else? Oh yeah, the private ads.  I've been turning away some things.  Although I say that I'd do pretty much anything for money, I'm finding that I am sometimes wrong.  🙂  I hate pitching products that I don't really like, or think that you'll find useful, so you know what? I don't!  I apologize to my potential advertisers for not taking your cash and running with it.  Maybe next time.
Finally, I start my new job today.  🙂  I'm trying to get over my fear of social networking by creating a LinkedIn page.  It's an oxymoron that the person owning a blog that discusses my entire life does not have a personal Facebook or LinkedIn page.  I'm intensely private in my personal (in person) life and I don't like having my life online.  Incidentally, if you're living under a rock, every single job that you apply for checks the social networks when they do a background check on you.  My check was easy because NOTHING comes up for me when you search for me online…except this new LinkedIn thing.  Oh well.  I did hold out for some time.
Wish me luck as I start my day.  Oh, and January will be my third blog anniversary.  I'll be giving away good old cash and some prizes, so look for an announcement by the end of next week.
Stay well.
Join the newsletter
Subscribe to get our latest content by email.