This is my first monthly review in 2012.  There are 100 new subscribers since the last time that I did this one month ago, so this is new for you.  What I do is recap my debt and what affected it every single month.  I also share with you how I am making extra money (usually online) in my laughable spare time.  My goal in doing this is three fold:
Demonstrate that you can, through consistently paying your bills, work a large debt down towards zero.
Show that you don't have to be Mark Zuckerberg to make money online.
Hold myself accountable to my own debt reduction plan.
I'll be the first to admit that it's not always smooth or easy.  There are times when my debt goes up, but most months it goes down.  It's this consistent downward trend that keeps me going because I can project when I will reach zero.  It's not pretty, but it will do.
I never share my salary information (although I used to) because it honestly doesn't matter much for the purposes of this blog.  Making and living on $30,000 per year in one part of the country does not mean that you have the same standard of living (or bills) in another part.   Plus, I'm still the only working person in a family of three adults.  My BF attends school full-time and we take care of his elderly mom.  On to the debt!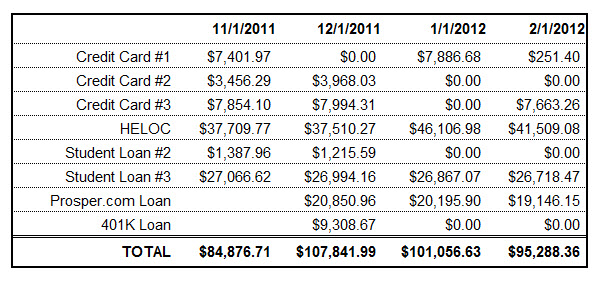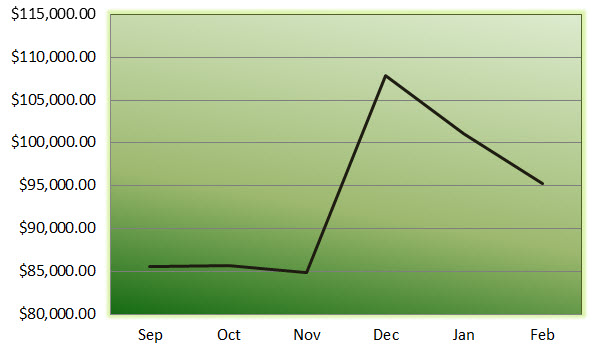 My debt took the nosedive that I predicted last month as I paid off the outstanding 401(k) loan that I had taken out to buy my investment property.  I've now completely shifted and restructured my debt, all at low or zero interest rates.  I've cracked the 6-figure mark again and I'll focus very intensely on the debt this year.
My goal is split my focus on the credit card and the Prosper.com loan which you guys funded.  Thanks again for investing in me.  I'm paying the loan back at a slightly accelerated rate, but not as fast as I would like because Prosper was sneaky and changed the rules around a bit.  You used to be able to make manual payments of any amount in between your normal payment.  Now, the only  extra payment that you can make has to be in addition to your regular payment.  So, my monthly payment is well over $600.  If I wanted to pay an extra $50 at any point in the month, I used to be able to do so.  Now, I can't.  I would have to add the $50 on top of my regular $600 payment, which kind of sucks.  I'll have more on that next week in a different post.
I've listed $0 as my debt for Credit Card #2 even though it has a balance of about $1,800.  The problem is that all of that is owed to me by my company.  I'm waiting for them to reimburse me for some expenses related to travel.  For some reason, they don't have corporate American Express cards, so I have to float travel related expenses on my credit card.  I'm not a happy camper with that one since my next trip in about 2 weeks will be another $3,000 – $5,000 in total.  I'm planning on changing this absurd policy of forcing people to pay for their own travel and then reimbursing them.  What if I didn't have a credit card with the right amount of available credit?  What if I didn't have a credit card at all?  Not cool.
If you noticed, I redesigned the blog a little bit.  One or two people have e-mailed to ask if I sold it.  Nope, it's still me!  I just decided to have it looking a little less homely and more professional.  It's working because media companies are contacting me left and right these days.  That doesn't translate to money in my pockets though, which kind of sucks because I need money, people! Speaking of money, be a voyeur and check out how much I made online in January.
Online Income
Commission Junction: $4.90
Google: $291.72
Private Ads: $708.86
Sponsored Tweets: $4.18
Total: $1,009.66
I made a record amount of money through Google's Adsense advertising network.  This happened because of a few things:
The blog resign allowed me to add that big banner add up top there in the center.  See it?  It probably has a credit card offer or something there now.  That big fella made me an extra $43.26 in January.
The redesign also allowed me to add the big ad up to right there as well.  Apparently you guys notice that ad more because it earned me some extra money too, coming in at $40.91 for the month.  Actually, depending on which article you're on, there are some really good ads.  I've seen ads for coupons, free stuff and big name companies, and some zero percent credit card offers.
Finally, the new niche site that I mentioned a few articles back is paying off.  It earned me $68.26 in January.  This is peak season for that site's particular topic, so I expect its earnings to decrease until next year in January.
To give you some perspective, I worked for years earning maybe $0.10 per month through this program.  It literally took from December 2006 until November 2010 to meet the $100 threshold for Google to cut me a check.  It was painful to watch.  By implementing some things that I've learned, I have been able to blow that number out of the water consistently.  Having a niche site that literally cost me $10 to put together make $68.26 in one month is a blessing.  It's been profitable since the first month and now runs on autopilot.  I love it!
But, all that is Google is not gold.  In December I told you that I earned $286.60 from Google.  They ended up paying me only $196.71, claiming that almost $100 worth of clicks and views were invalid.  The Lord, uhm, I mean Google, giveth and taketh away.  I just hope that they don't taketh that much this month.
Private ads paid a decent sum, but I'm still disappointed somewhat.  This year, I joined the Online Money Bloggers challenge with a goal of making $30,000 online this year.  I need to make $2,500 per month if I am to beat this challenge.  I know that I can do it, but I was hoping that private ads would help a little.  Alas, I am still somewhat picky and won't put things on here that will not help you or impart some knowledge.  I mean, I'll sell just about everything, but not my soul….weeeeell.
Sponsored Tweets continues to pay off and is pretty much running on autopilot these days.  If you have a Twitter account with at least 100 followers, there is no reason why you should not be making money with your account either.  Read my primer, Why I Make $20 Per Tweet and You Don't.  These days I haven't received any Sponsored Tweets offers that I've accepted, but my referrals are making money and that makes me money without having to lift a pinky.
I hope that you're all following along with my free get out of debt course.  We're only into the first lesson, so you can catch up for the second lesson scheduled for Tuesday.
Thanks again, for following along my crazy debt payment path.  How are you doing with you debt?
Join the newsletter
Subscribe to get our latest content by email.