Now that the hoopla of beginning a new year has died down a bit, it's time to get back to our regularly scheduled programming.  For us, that means checking to see where we are with our debt and if we made some money online in the month of December.
Incidentally, this blog was started three years ago this month, and I've dutifully done these debt check ins every single month since then.  I hope to continue doing that until my debt balance reaches zero.  At this rate it may be some time, but I'm committed to letting you know exactly how I'm doing.
On to the debt numbers and then we'll continue our conversation.
The Debt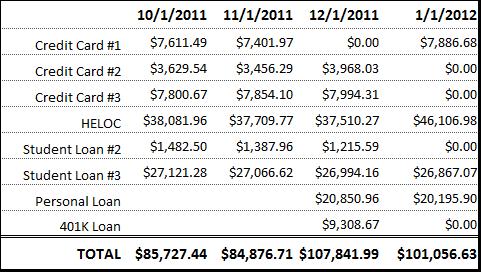 My debt fell by almost 6.3% last month to $101,056.63, but I'm not overly excited about that because it was expected.  Remember, I'm restructuring my debt by shuffling things around to either avoid or reduce the interest that I would pay.  A payment that I sent didn't make it to the vendor in time to be counted for this month, but next month should see another decent drop in the debt.  From there onward there shouldn't be any additional shuffling going on, so it should be easier for you to keep track of from month-to-month.
I did decide to go ahead and pay off the smaller student loan, pay off the smaller credit card, and move the 401(K) loan onto the HELOC before my grace period to pay the loan off expired.  I plan on killing off the addition to the HELOC as soon as possible by pushing as much as I can make online to the loan.  I want to pay that loan down by at least $15,000 for the year.  Its an aggressive goal, but I want to be rid of the balance on the HELOC by the end of 2013.
Let's take a look at my blogging income. Keep in mind that these are net of PayPal and other fees.  Also, I might have earned it, but I probably haven't been paid for some of it yet.
Blogging Income
Commission Junction: $6.34
Sponsored Tweets: $5.54
Google: $286.60
Private Ads: $2,041.61
eBook Sale: $9.98
Total: $2,360.05
I guess I did really well in terms of ads last month, since this is a record amount for me, but the majority of that money came from three new sponsors.  I'd like to welcome Ally Bank, Metlife and 21 Century Auto.  Again, I have been picky and only accepted ads from companies that I would deal with myself.  I'm a huge fan of Ally Bank because, get this, they hate bank fees!  I hate fees too, so we're a match made in heaven.  The other sponsors provide insurance products, which we all hope to never need, but should have anyway.
The Google ad income is the highest that it's ever been.  A few things happened here: my niche site made some money; and I think that there was an ad for free fries from McDonald's somewhere on my website in December.  Apparently you guys really love some free fries, because I saw a ton of clicks each day that the ad was displayed.  I wish McDonald's and others who advertised free stuff on my site during the month of December would come back!  I'm expecting to make half as much in January if I'm lucky.
With as much money that I made online in December, it's still not enough.  In order to make $30,000 online this year (my goal), I need to make $2,500 online every month.  I'm going to have to push myself to really see if this is possible.  I have only so much ad space, and I don't want to bombard you guys with ads.
So, what to do?  Well, the internet is full of money making schemes.  I might have to be a guinea pig over the next eleven months to test if this can truly be done.  I certainly believe that it can be achieved, but I don't intend to get there by selling you things that you don't need or but making money from you by selling you products on how to make money or how to get out of debt.  again, I don't like when people do that.
How's your debt reduction going? Anyone know of a decent and legal way to make some money online?
Join the newsletter
Subscribe to get our latest content by email.