July 1 Debt Check…And Other Stuff
4 years ago
I'm 14 days overdue, but with good reason. I wanted to wait a bit to share some news with you in this post instead of making a whole separate post about it later.
Let's see.  We're deep into July and heading towards August at full speed.  It's been a wonderful summer so far, much like my summer last year when I was job free and enjoying life.  This year, I'm consulting and thoroughly enjoying what I'm doing and where I am.  If nothing else, this blog has been an amazing chronicle of where I have been and how life can twist, turn and evolve over the course of months and years.
Let's good the financial details out of the way.    The debt numbers are below and they're trending in the right direction.  I slowed down the debt repayment somewhat to increase savings.  One mistake that I see people in debt constantly make is concentrating on the debt and neglecting savings.  It is entirely possible to have two goals and accomplish them both at the same time.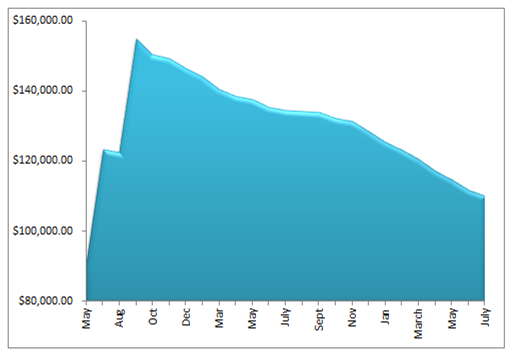 My focus is on eliminating the Prosper loan before I move on to other things.  At this rate I will accomplish that in September, a little ahead of time.  Once that loan is out of the way I will most likely shift my focus onto the HELOC and the credit cards.  I am paying 0% on one card which I have managed to do for about 4 years straight through balance transfer offers.  In fact, I took the unorthodox step of transferring some of my student loan debt onto a credit card based on these offers, but that's for another day's discussion.
Either way I will hit my goal amount of reducing my debt by at least $20,000 this year.  I'm still working as a consultant in what is still technically a part-time job.  I'm still trucking along because this is doable and because you can do the same.
So, you guys are finding out before my family because this is being published in the morning and I won't say a thing until later tonight, but I've finally decided that the time is right to get married.  I'll be picking up the ring shown above later today after having it sized.  I have famously resisted marriage for quite a long time despite being with the same person for almost 20 years. I called myself the last of the unmarried Mohicans.
My fiancé has been in nesting mode for years now with my resistance being the only thing keeping us from getting married.  In the throw away culture that we have evolved into, I have watched the state of marriage devolve into a 50 hour farce such as the Britney Spears marriage or a shell game with individuals racking up multiple marriages a la Donald Trump leaving the bodies of spouses past in their wake.
"Because I am female I am expected to aspire to marriage. I am expected to make my life choices always keeping in mind that marriage is the most important." – Chimamanda Ngozi Adichie
For me, marriage is a lifetime decision.  It's not disposable; it does not have an expiration date.  This is a serious commitment that you make to yourself and your spouse in front of friends and family.  The weight of the responsibility for keeping someone else happy and excited about spending the rest of their lives with me was a very heavy burden that I did not feel that I was ready for.
I also wanted to have an opportunity to develop into my own person, absent of my fiancé.  I've known him since I was 15 years old and the danger of morphing myself into something that conformed to someone else's expectations was real.  I recall wanting to marry early when I was in college, then as I matured through college I realized that I needed time to get to know who I was before changing my title to "wife" or "mom". I needed the mental growth that came with age and the freedom to make my own choices outside of someone else's parameters – whether they were my parents' or my husbands.  I wanted to be my own person and I've done that.
What's next?  At 36 years old, I'm not a giddy 20-year old bride with visions of layered chiffon confections and a 200 person wedding.  I'm challenging myself to have a frugal wedding, consisting of no more than maybe 35 people, preferably in my home town of New York City, but I'm open to possibilities. I'm hoping to accomplish this wedding for around $5,000.  I know that it can be done.
You won't be reading about weddings on this blog, because honestly, that's not what you're here for.  If I do find some tips and tricks that are helpful and worth sharing, I can't promise that you won't see at least one article on frugal weddings.
See you next month.
Join the newsletter
Subscribe to get our latest content by email.