It's the beginning of the month and time for me to run naked on the internet…financially anyway. I'm not sure how many debt reduction or personal finance bloggers actually open their books wide open for all of the world to see, but I find it cathartic.  Someone asked me if I'm not afraid of what people will think of me putting everything out there, but it really isn't that important to me.
You see, money or my lack thereof, has no bearing on who I am.  Money does not define my character or my values.  I have been friends with people of great means but I've also been friends people just a paycheck away from homelessness.  What I've found is this: it's nice to have money but happiness is free!
With that said, let's peek in on my finances and see how we're doing on this whole debt reduction thing.  After all, that's the entire point of this blog.  What?  You thought I did this for fun?!
Debt Report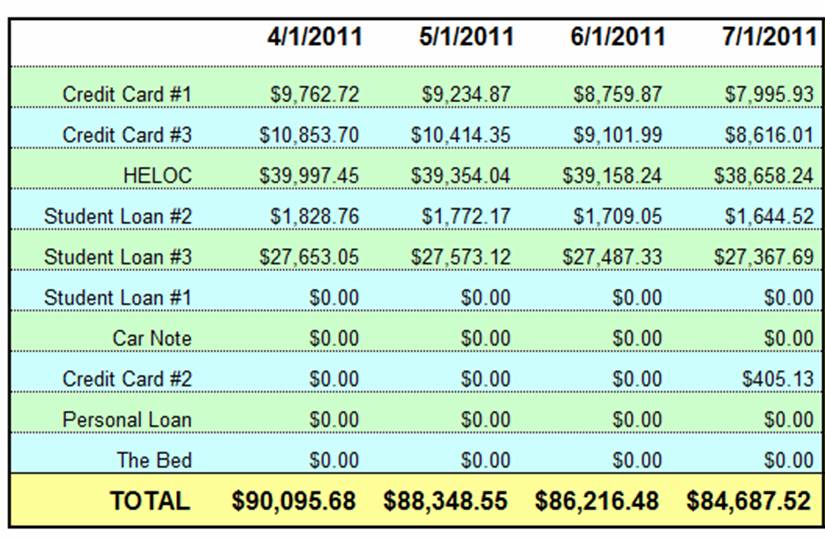 I decreased my debt by $1,528.96 in June.  Again pretty good but not good enough.  I need to work harder at eliminating at least one of those credit cards. I'm going to focus on one of those credit cards and at this point it's going to be #1.  I need to get that balance down before my 0% interest offer expires in a few months.
You'll notice that there is a balance on Credit Card #3.  This is almost 100% the total fee for my annual home insurance.  Actually, this bill might increase as I add some costs associated with making some improvements to my income property now that my tenant is (almost) gone.  I'll have more about that entire saga for you soon, but there is so much to write that I can only do it in small doses because I begin to have palpitations from remembering and writing everything.  Part will be here and part will be on the My Tenant From Hell site.  I've been paying the costs associated with cleanup and renovation out of my savings which is nice to say since I never really have savings to speak of.
I have an entire messy, messy, messy situation going on with the HELOC which will also take a whole entire post but let me say that Bank of America + my mother + HELOC = a lethal combination.  It's just about on par with my frustration from my tenant, but you'll have to come back to read more about that too! I can't give it all away on one post.   Alright it's time to see how much money I scraped together from this little blog.  Remember, I might have earned it, but I might not have been paid for it yet.
Blogging Income
Google: $65.50
Adbrite: $1.59
Bidvertiser: $4.13
Sponsored Tweets: $15.43
Commission Junction: $0.00
Private Ads: $997.15
Total: $1083.80
For the first time in months my income from Google's Adsense fell.  This was because I removed one ad unit from the site.  I think that I'd like to move towards getting rid of these types of ads altogether except for a few specific articles,  but this income can get addictive so I will have to wean myself off of this slowly but surely.
Commission Junction is such a disappointment for me.  They have lots of companies offering great products but the products don't seem to click with you, my readers.  I have $3 to go to get to payout and once I do, I'm closing my account there.  It's too much work for too little payoff and I'd like to consolidate as much as possible.
Sponsored Tweets continues to pay off and at this point is 100% passive for me.  I haven't sent out a sponsored tweet in some time, but I have people that I referred over that are sending tweets and I get 10% of their earnings.  I know that one particular referral is making at least $100 a month on tweets.  If you'd like to sign up, read a little on how you too can make money through your twitter account.
My total blog income was a bit of a surprise.  The problem is that I actually got only 40% of the private ad money after PayPal sucked out a portion since my BF spent the balance.  I'm getting somewhat frustrated with this since, believe it or not, negotiating with advertisers is not something that I like doing.  It would be nice to be able to take the money that I earn and push it directly towards my bills.  It's something that I will need to discuss with my BF very, very soon.
Again, don't forget to hop over to mytenantfromhell today to see my long-winded story about my former tenant.  I win, bitch!  Couldn't help it.
This article and more monthly debt updates can be found on the Yes, I Am Cheap blog where Sandy shares her efforts at getting out of debt and all the wacky things that happen along the way.
Join the newsletter
Subscribe to get our latest content by email.