It's the first of the month and you know what that means!  Time for me to over share more about me than you ever wanted to know.  If you're following along as I reduce my debt (the whole point of this blog) then you know that this is where I come clean about where I am in my debt reduction efforts.
Instead of listing out my debt I'll include the pretty little charts and graphs that we've gotten used to.
The Debt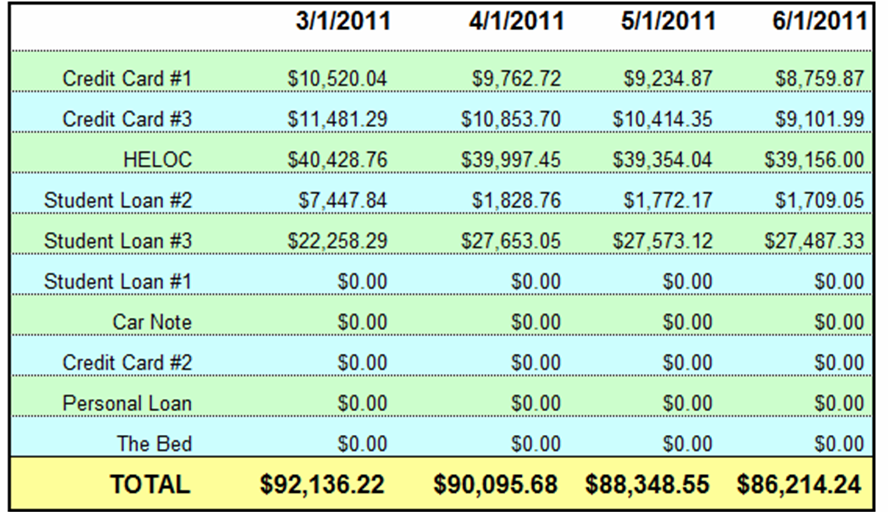 My debt did decrease by $2,134.31 from the previous month which was great, but I used my tax refund money to get there.  I am thinking of changing tactics on the debt reduction next month and just focusing on one credit card to pay while paying the minimum on everything else.  I need to clear the credit card debt before it resets to the default interest rates from 0%.  If I don't I'll be screwed.  If it doesn't zero out in time my hope is to be able to get a loan from Prosper to cover the balance at a rate that will be lower than the default interest rate.  But I'm months away from that so I have some time.  Before I get to how I got to these numbers, let me share my blog income.
Blog Income
If you recall, last month I said that I would be trying to make at least $1,000 during the month of May to cover some expenses.  Boy was I wrong about how much I would need.  We'll talk about that one after I share just how much I actually made.  Remember, I might have earned it, but I might not yet have been paid for you.  Also, PayPal vampires away a percentage of the total as well.
Google: $78.25
Adbrite: $3.54
Bidvertiser: $1.99
Sponsored Tweets: $16.11
Commission Junction: $3.75
Private Ads: $980.98
Total: $1,100.73
I know that I keep saying this every single month, but this is the most that I have made in one month from Google.  I would have made more, but I was getting so many clicks on my ads that I actually disabled one ad block mid-month.  It was such an anomaly for that it seemed like something was wrong.  I might add it back for June and then I'll be repeating the line about "the most" again…hopefully.
This was also the most that I have made in on one month from Sponsored Tweets.  I didn't do anything for that one.  People that I have referred over have made money sending out Tweets and I get 10% of their earnings as a referral fee.  If you have a Twitter account and have not signed up for Sponsored Tweets then you should do so now and then share your own referral link so that other people can sign up and you too can be making an extra couple of bucks a month for doing nothing.
eHow changed the way that they do business and will no longer share revenue with article writers.  Instead they wanted to buy my articles outright for a whopping $6!  You'll excuse me for passing on this deal of a lifetime.  Instead I can sell each article for at least $25.
Hello, Mr. Murphy
Just when you make plans, someone tosses a wrench in your direction.  I was forced to pay the repairman $600 to fix BF's big expensive 6 year old fridge when it died 3 days after I stocked it with 2 weeks worth of food.  Not only did I have to lay out that cash, but I also had to spend an extra $200 in unplanned money on groceries which I did the non Extreme Couponing way.  Not a happy camper.
I did give my cousin a wedding gift of $200 as planned, but I had forgotten about two additional weddings taking place this month.  I spent another $200 on that as well.  On top of that, BF is still in school full-time, so part of my blogging income goes to him.   I want to bang my head against the wall because I still have not paid the damn real estate taxes.  I also have to give my mom around $500 which is my annual donation to the "keep-my-mother-happy" fund plus my step-father's birthday was on the 30th and I still owe him a gift/dinner.  Knowing people is expensive!  It might be time to consider being a hermit.
And finally, I slipped putting my laptop away and dropped it.  Half of my screen doesn't work anymore so I am working on the other half of the screen in a teensy little browser box.  I'm going to repair it myself.  I just need to order a new screen.  The most competitive price that I've found is a little over $100.
When You Fail To Plan…
Alright, I need plans, plan, plans for June.  Frankly, I'm tired.  I need a vacation or something, but I can't afford it. Sigh.  Okay, plans.  The goal for June is to get credit card #1 down by about $800.  Everything else will default back down to minimum payments.  I also need to push at least $100 back to savings.  That whole fridge thing was not nice.  This is why you should have an emergency fund.
Oh, and don't forget that my tenant has until the 15th to get out of my house.  If you want an update on how that's going, pop over to My Tenant From Hell to hear about our recent phone call.  I probably won't have an update on my tenant on this blog until the 15th rolls around.  Fun times.
Lastly, I've found a bunch of websites stealing my original content, especially the ones about extreme couponing.  I'm adding some new language at the end of every article and "invisible" text to make up for it.  Bastards.
How's your debt reduction going?
This article and more monthly debt updates can be found on the Yes, I Am Cheap blog where Sandy shares her efforts at getting out of debt and all the wacky things that happen along the way.
This article copyright by YesIAmCheap.com with permissions to appear at that URL only. All rights reserved.
Join the newsletter
Subscribe to get our latest content by email.