Alright, I'm back. I was on the receiving end of a stern talking to about working too much for the company that is not my employer and putting everything else, this blog as well, on the sidelines. With that, my apologies for disappearing. I was spread way too thin and just couldn't do everything anymore. Let's enter the confessional.
Forgive me readers for I have sinned. It's been three months since my last debt check in. In the five plus years that this blog has been in existence, there had only been one month of debt checks that was missed…until the past three months. It appeared to others as if I had walked away from this blog, in fact, I've received four offers to buy this blog. I can't say that I was ever tempted though. Seems like I've got some more juice left in the old veins.
Before I get to the debt, I want to recap this whole job thing a little. Way back in the wilds of October, I took a consulting gig that was scheduled to end three months and one week later.  The entire reason for taking the job was because it was supposed to be short-term and it would give me an opportunity to reduce the debt a little while I decide if I wanted to get back to work on a full-time basis.
I've now been with this company for over seven months.  I enjoy the work and the people who I work with, however, I have a tendency of throwing myself head first into the work and put the rest of my life on hold.  That's when my family steps in and says, hey, you're overdoing it again. Yesterday, my boyfriend voiced his concerns about me being overworked and driving myself to a heart attack. He was concerned enough to book me for a full spa day.  That's not something that I would ever spend my money on, but I needed a day to relax. So, here I am, pulling back and getting back to this stuff. How I've missed you all.  Group hug.  Let's never fight again. Now, on to the numbers.
The Debt
Listen, the entire point of this blog is to follow my journey out of debt. I set myself a fairly aggressive target of reducing my debt by $28,000 in 2014 and I've been working hard to make sure that I get to that number. Frankly, I think that I'm doing a phenomenal job and am on target to get to the $28,000 mark by the end of the year.  Remember folks, I want to retire by 40, and since my 36th birthday occurred a little under 2 months ago, it's time to put the pedal to the medal.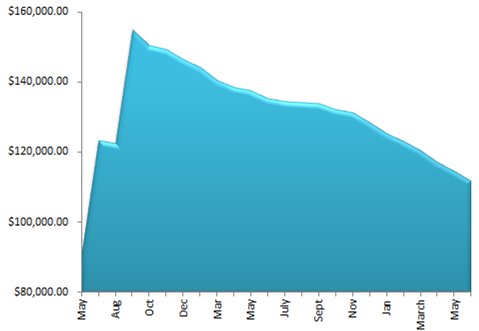 $13,843.11
That's how much I've reduced my debt since the beginning of the year. I know that my target was originally to reduce the debt by $28,000 in 2014, but I've been thinking about that. With all units rented, my rental property is cash flow positive and is able to pay for itself. Because of that, I don't absolutely need to get rid of the mortgage on the property by then. I can reduce my target down to about $22,200 for the year.  Cleary, I will pay as much as possible by the end of the year, but this gives me a little bit of breathing room.
This debt, with the exception of the rental mortgage, has to be gone in under four years for my master plan to work.  I could go on forever about this plan to retire by 40 thing, but I'll save that for an entire post because I have a lot to say. Whether you want to retire early or not, you're going to want to read it.
Blog Income
Plainly, I've been slackin' on my mackin'. I have not answered even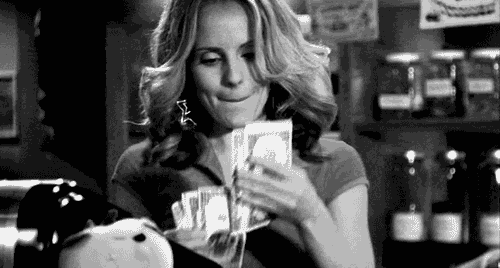 ONE advertisement inquiry in months.  Some of you are gasping because I averaged income of at least $1,000 per month on this blog.  I suck and I know it. Here's the thing – I dislike negotiating.  Everyone wants something for as cheap as they can get it.  Hey, I applaud them for it.  I just know that I have an absolute weakness in determining my worth and I don't stick to my guns.
I've often felt as if I were short-changing myself and then I felt like a chump. I've written for free ("exposure" they call it) for large companies and then felt like an idiot when I found out that my colleagues (gosh, it's great to have a network of friends) were demanding and receiving payment.  The way that I avoided that feeling like an idiot was by simply ignoring everything. Burying my head in my job wasn't a good strategy either. So, I won't be selling my soul to the devil, but I'll get back on my grind.
Speaking of ads, these people contact me with offers for free stuff pretty much on a daily basis. I never endorse products, so I don't answer their messages. I'm thinking about changing my tune.  I'm willing to take their stuff and give it to you guys for free.  They're often things like books on money and finance, free apps, gift cards, and whatever else they feel like throwing my way (free eyeglasses?). If you're ever interesting in getting free stuff or in getting on my secret mailing list, now's your chance. If you think I rarely write articles, you'll see how rare I send this thing out. You'll never have to worry about spam because you'll hardly get any messages from me!
I'm going to be writing a lot more. You can find me over at
The Color of Money Magazine
and on whatever blog or newpaper or newsletter or website or corporate blog allows me to write on their pages. If you want to find out where I am, connect with me on Facebook (to the right).  My latest article expounding on why people should delay parenthood is featured on
DINKS Finance
. As always, you can always shoot me an
e-mail
or connect with me in real time on
Twitter
. Even if I'm not on this website, I always answer e-mails.
See you next month.
Join the newsletter
Subscribe to get our latest content by email.