Can you believe that it's March already? Before we know it, it'll be Spring and we'll all be back in our gardens pulling at weeds and planting new trees. I love this time of the year because it's filled with the possibility of what's to come.
As with the beginning of every month, it's time to review how my finances are going. The entire reason why I created this blog was to keep myself accountable in my journey towards debt freedom. I'm not ashamed of my debt since I've long ago separated the numbers from who I am as a person. This is especially true because all I have left, including what's on my credit card, originally came from student loans, a home purchase or left over charges from when I closed my business. Nothing in the numbers that share with you comes from consumer debt.
Alright, let's get right to the numbers.
The Debt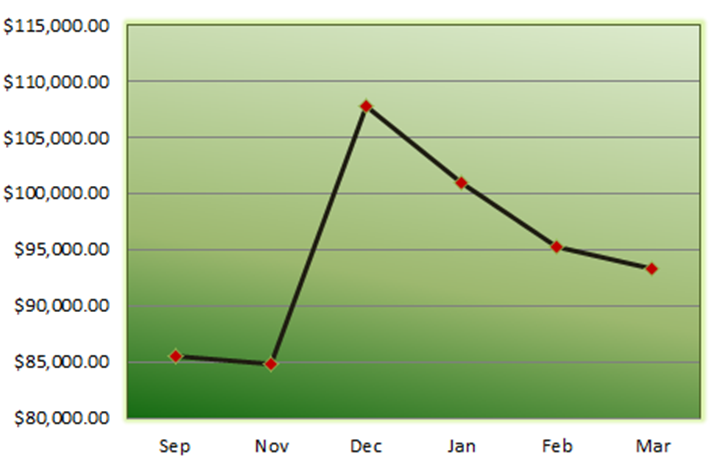 I have a bit of explanation here. I did reduce my debt by close to $2,000 which is always great. From this point onward I am an hoping to keep that pace up with regards to the debt reduction. It get easier as I automate as much as possible and have reached a point where I really don't spend anything more than is absolutely necessary.
I listed my two credit cards as $0, however, I do have balances on them. The only problem is that I am waiting for reimbursements from my job for the entirety of the charges on my card. I'm not counting that debt. I still don't like the thought of floating thousands of dollars in charges on my card until I'm reimbursed.
I really want to talk about my earnings for the month.
Online Income (Net of Fees)
Commission Junction: $0.35
Google: $274.65
Private Ads: $2,071.92
Sponsored Tweets: $17.77
Total: $2,364.69
By any sense of the word, my online income in February was great.  I guess advertisers are finding my little corner of the interwebs and are willing to pay for ad space.  That's great, but I don't want to be dependent on that.  What I've decided to do for next month is diversify my advertising income.  While I might not earn as much, you will see different income sources.  It's all about not putting all of my eggs in one basket.
I also have a couple of blogging clients who hire me for different services.  You won't see that income here because I am employing my college age cousins.  They perform the work and bill my clients directly.  I'm really just putting a shingle out for my cousins so that they can have some pocket change while attending school.  I'm also teaching the younger generation some hands on lessons about financial independence.  That's important to me, because the generation before me did the same for me.
I hadn't mention it on this blog, but the reason why I've been offline for some time is that one of my uncles will killed in a hit-and-run car accident two weeks ago.  His funeral was on Saturday.  There are a few things that I vividly remember about my uncle:
Ever the proper English gentleman, he only ever wore his work uniform or a suit.  I've never seen him anything but properly dressed.
He loved his family, including us very lucky nieces and nephews.
He preached the gospel of financial independence to anyone who would listen.
My uncle firmly believed that we should all control our destinies through entrepreneurship.  The last 15 years or so of his life was dedicated to building his own telecom business, probably at a time in his life when most people would look towards retirement.  I salute his passion for being a self-made man.
If this blog is to help me become financially independent, then I have to spend more time developing it into a better income stream.  While my day job has been consuming my life, I've pushed the blog to the side more and more.  My uncle's passing has helped me re-focus, just a bit.
I hope that you all had a great month.  Keep fighting the fight against debt.
Join the newsletter
Subscribe to get our latest content by email.