It's been forever since I've done a debt check-in.  Okay, maybe not forever, but two months.  I've decided that I will show my debt progress every OTHER month instead of every month.  This way, you still get to see what I'm doing as I strive to reduce my debt and I don't feel so much PRESSURE to get everything right every single month.  After all, I AM human…most days.
First thing's first.  I have to tell you guys that as of Friday, I no longer have a job.  Keep that in mind as we go through everything that I have done for the past two months.  I'll speak more about my jobless state on Thursday since I think that you might find this situation helpful if you ever find yourself unemployed.   But first, the debt.
The Debt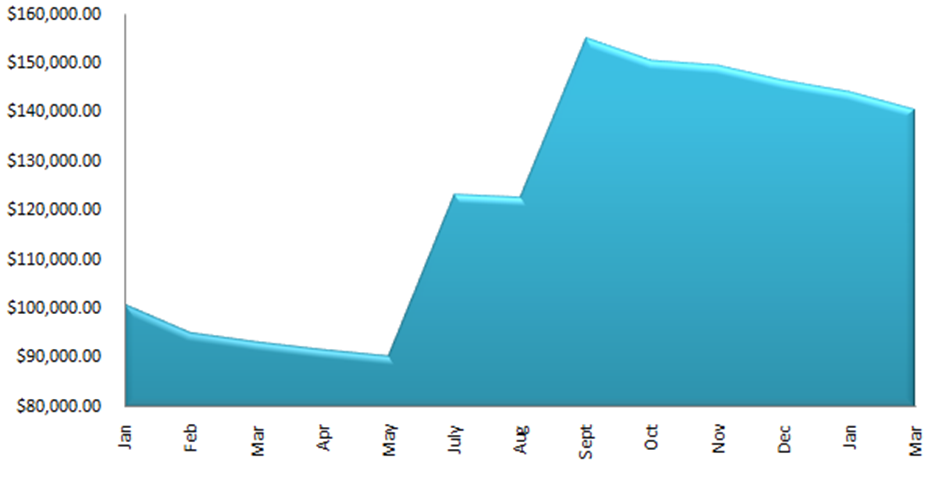 As you can see, the debt continues to trend downward consistently.  In fact, the debt is down $15,0000 from its peak in September.  Wowsa!  Every month I challenge myself to pay as much as possible towards the debt and I sometimes get bogged down in the individual numbers.  Can I afford to pay this creditor $110 or should I send $100?  In the end, getting perspective on where you are coming from, in this case that September peak, to where you are can be a great motivator
Looking more closely at the debt a more clear picture emerges on exactly where debt payments have been going. I paid one credit card off in November, paid down the other two credit cards, froze the student loan payment, made the minimal payment on the Prosper loan and rental mortgage and then prepaid the car note for two months.  Why?  It's pretty simple; my former employer didn't know that I was aware of my impending separation.   I wanted to put myself in a financial situation that was not unduly stressed whenever the time came.   Now that I'm no longer working, I can take some time to relax before looking for new employment and instead put Plan B into action.  More on that on Thursday.  The bottom line is that the debt is moving along fine, and I'm relaxing on the couch instead of stressing out about finding a new job.  I'm exceptionally happy with my progress.
Online Income
I'll be honest here and say that this has not been a focus for me over the past three months or so.  I was laser focused on the debt and putting myself in a decent financial position to prepare for unemployment.  Because of that, this fell by the wayside, but not entirely.
I have a few things that have been automated, such as the ads that you see here, which does still generate some income for me, regardless of whether I am writing here or not.  Because of this, my blog was able to generate income without me.  That's pretty cool, but I will be kicking that up to a higher level next month.  I'll still give you the numbers anyway, because I've promised to do so.
Google Adsense YIAC: $66.99
Google Adsense Secret Niche Site: $93.23
Google Adsense Tenant from Hell: $0.05
Ad Network #1: $147
Private Ads: $380
Sponsored Tweets: $1.37
Total: $688.64
Wow! That's pretty good for leaving my blog on "automated".  But, I have to disclose my fees of $77.24 which means that I had a net income of $611.40.  I've gotta pat myself on the back for that one.  Well done me!
So, that's pretty much it for me and the debt so far this year.  I'm proud of the progress that I've made but I expect that this momentum in the debt repayment will slow down over the next few months until I'm confident about my finances.  You'll just have to  keep coming back to find out how I'm doing.
How did you do with your debt last month? Are you trending downward as well?
Join the newsletter
Subscribe to get our latest content by email.