Happy official Fall everyone.  We had a Nor'easter over the weekend that took us directly from Summer into Winter.  Do not pass go, do not collect $200.  Seriously, the weather was 60 degrees and then suddenly it was snowing.   The weather then popped right back up to the mid 50's!  Did I mention that it's November in New York City? Global warming is scary!
Lots of developments happened in October.  First we'll go right to the numbers and then we'll come back to a few developments.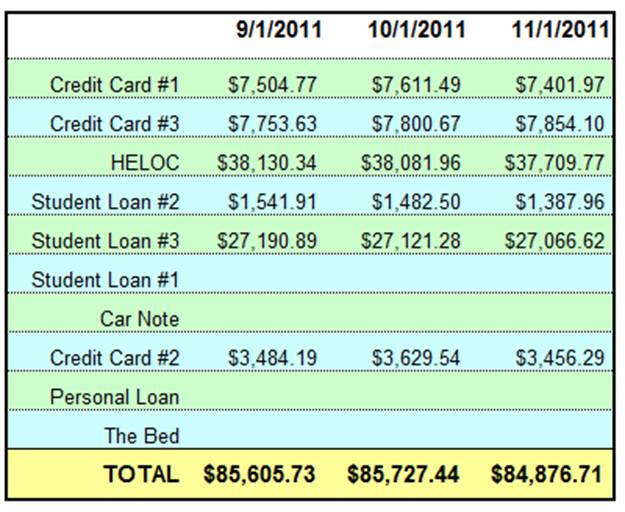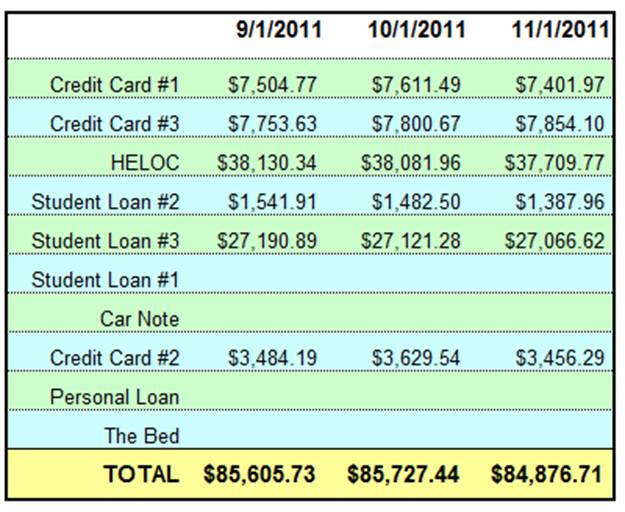 As you can see, after trending upward for the past two months I'm finally heading downward to the tune of -$850.73.  I had a few charges from the Financial Blogger Conference hit my cards this month but my payments offset much of that.  My cards are currently on 0% finance charge but that expires in the beginning of December.  They both now also have balance transfer offers again, so I plan on playing a little bit of shuffling around to avoid paying any interest.  I think that I'll push the debt from one credit card #1 onto the home equity line of credit (HELOC) then transfer the balance from credit card #3 onto the now cleared credit card #1.  Yes, it's shuffling, but if I can avoid finance charges it is worth it.  The balance transfer fee will be 3% which is still far, far less than I would pay in interest if I just let the balance sit there.  I know that some of you think that credit cards are evil, but that fact is that I could not get a loan at a rate cheaper than what my credit card charges me.  Incidentally the rate on the HELOC is 3.125% but I dislike tying debt to the house.
Before I explain what happened the rest of the month, I have to share my blogging income with you.  Remember, I might have earned it but I might not have been paid for it.  I am now sharing net totals with you.
Blogging Income
Commission Junction: $31.20
Sponsored Tweets: $31.55
Google: $188.37
Private Ads: $867.31
Total: $1,118.43
I earned a good chunk of change from my efforts with the blog in October.  I want to tackle each one in order.  The income that I earn from Commission Junction is based on your actions on this blog.  I have the occasional ad or review for products that I believe might be helpful for you.  If you choose to click on something and download whatever is offered or if you sign up for something then it might earn me a commission.  For instance, the ad that you see to your right for Kellogg's coupons will pay me something like $0.50 if you sign up for their coupons.  I like cereal.  I eat cereal.  I wish my cereal was cheaper.  Chances are that you do too.  So, if you sign up for coupons, you get cheaper cereal and I get $0.50.  That's how I make money there.
My income from Sponsored Tweets is probably the highest that it has ever been.  This is primarily due to the people who read my article, Why I Make $20 Per Tweet On Twitter And You Don't signing up for their own accounts to make money! I only sent out one Sponsored Tweet in October.  The rest was all from a referral fee of 10% of what my Tweeters made in the month.  So, some of you are making good money.  I'm happy to help…and collect 10% in the process.
My income from Google is the highest amount that I have earned in a single month.  This isn't because Google suddenly wants to pay me more.  It is a reflection of the success of my niche site. I built a second site that has nothing to do with personal finance which I discussed in my recent article I Make Money Online: Building Niche Sites.  It made me $34.07 in October.  It literally took me something like four years to earn my first $34 from Google, so this is a tremendous success as far as I'm concerned.  It also shows that this site has the potential to make a good amount of money if I put more effort into it.
The good thing about that article on niche sites is that it inspired some other people to build their own niche sites.  As a result of that article I was also challenged to a niche site duel beginning on November 1 by LaTisha from Young Adult Finances which now has 10 participants. You can read up about it on Young Adult Finances.  The basics is that I have to built a new site from scratch.  The first person to get their site to rank #1 for their chosen keywords without buying ads or doing something shady wins.  I think that I can win this.  I'll update you on the action every two weeks or so.  I'm not sure if I am allowed to mention the new site, but once we clarify the rules I will share as much as I can so that you can see how this is done.
Finally, I had a good month for private ads.  I decided to outsource some of my ad negotiations and it has worked out in my favor so that has been good.  Even though I am paying a 25% fee for the negotiations, I still made a decent amount after all the fees were deducted.  I'm pretty happy with the arrangement because the private ad payments allowed me to take care of what ate up a good chunk of that money this month.
HEALTHCARE!!!!
If you are uninsured, healthcare is pretty dang expensive.  Since my BF is uninsured we pay everything out of pocket for him.  It ads up to a lot of money because he has some health issues which require regular visits to the doctor and even more so, very, very expensive medications.  When I see a bill for a medication for $500 it's hard to reconcile having to pay for that when it's not a life saving drug.  I know that pharmaceutical companies spend a lot of time and money researching drugs, but wowsers.  If you have health insurance cling to it with an iron grip and don't let go because it can be as expensive as a Kardashian marriage, except the bills last a lot longer.  I couldn't resist that one.  A 72 day marriage that costs $10 million? Come on!  I know that the only reason that I'm not rich is because I'm not fickle or vain enough to qualify. Oh, back to the monthly debt thing.
I'm sharing this much detail this month because I want to show you that I practice what I preach.  If I share a method for making money with you, it's because I am doing it myself.  If you've followed these debt check ins you'll see that I've tried things that worked out and some things that didn't work.  The thing to remember is that if you are struggling you have to try something!  No, I am not making millions from the things that I try, but the extra money is really helping me and my family quite a bit.  If I didn't make this extra money then we would be in a deep hole on healthcare costs alone.
I've learned that you have to think differently and try just about anything once. The result might surprise you.
How did you do last month?
Join the newsletter
Subscribe to get our latest content by email.