We've made it all the way to the beginning of October together. There's not that much time until the end of the year, so if we are to make all of our financial goals for the end of the year we really have to get moving.
I haven't accomplished nearly as much in September as I hoped that I would. There was a massive flood in the area of my rental home which delayed the whole process of finding a new tenant. But, I have good news! A new tenant was to sign a lease with the management company on Friday, September 30, so we're in business! While he wanted to have a two year lease, I opted for a one year lease with a renewal option. I want to make sure that the new renter and I will be perfectly compatible before committing myself to a lease of that length. I do want a long-term renter though.
One of the positive things about waiting this long to rent the home is that rents actually went up. Since the area flooded and my house was on a hill out of the flood zone, there was a lot of interest in my property. Well, that and the fact that there are simply less houses to be had at this time of the year and so many people are now looking for housing. It's all about supply and demand. I was effectively able to tack on an increase of just about 10% more than my tenant from hell was paying. Considering that I have to pay the management company 10% of the collected rents, this worked out well. I will end up taking home only $7.50 less per month than when the previous tenant rented the location and I didn't have a management company. I am going to have to pay them one full month's rent for finding a tenant, vetting said tenant, arranging a city inspection of the property for an official occupancy report, and then having the lease signed.  I hope that it's worth it.
Alright then, on to the money portion of this post.  Here we go with the debts again.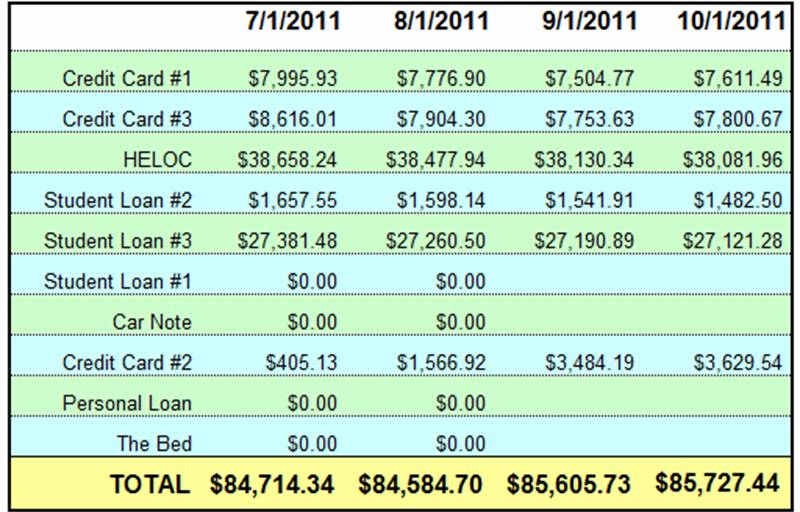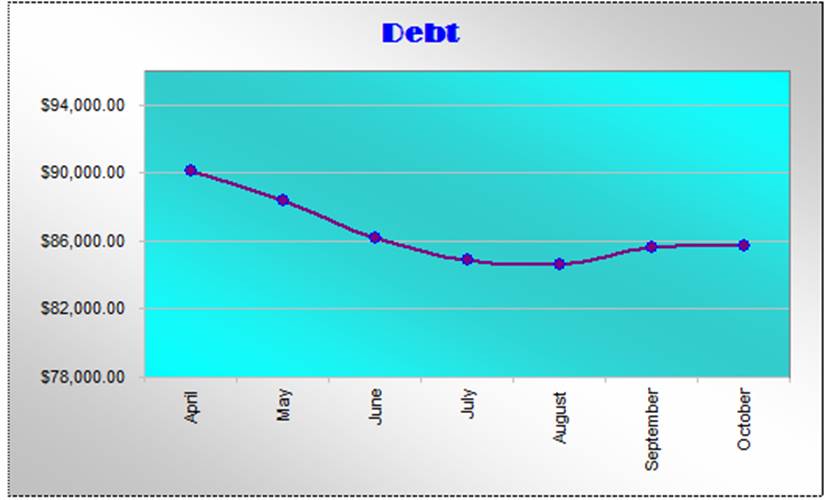 My debt went up from last month…again.  This isn't a good trend and it's concerning me more than I'll probably say here.  The why?  Murphy's Law.  I had a little emergency fund, but everything seems to pop up all at once.
When I brought my car into the dealership in late August, a $250 job turned into $1,500 and about 5 days with a rental car.  The rental car fees showed up on the credit card this month.
Tolls went from about $7.50 each way to $12 each way.  That one sucked big time.
Expenses related to the Financial Blogger Conference that I just arrived home from showed up this month and more will pop up next month.
Lots of gas from going back and forth to the rental property.  That stops this month, thank God.
Third month of no income from the rental property.
That was pretty much everything that caused the reversal of fortune.  Again, no excuses just looking at the why.  But if we look even further you can see that I could probably have avoided much of the hassle with a larger emergency fund.  The problem is that I've had to invest so much money into fixing the rental property that I basically have no emergency fund let.  That's a major problem that I have to remedy.   Either way, I have to have something saved for when Mr. Murphy tosses the next problem at my head.
Alright, you want to look at how much I made online in September.
Blogging Income
Google: $120.17
Sponsored Tweets: $0.17
Commission Junction: $107.69
Private Ads: $825.50
Commissions: $191.90
Total: $1,245.43
I realized I've been making a grave mistake.  I've been listing the gross amount of my blogging income when I should list the net amount.  PayPal takes a good amount of money out of my income and blog ad commissions also eat up another percentage.   This time I've listed the net amount.
Do you see a problem here?  I made an extra $1,200+ and yet my debt went up.  What went wrong?
There are two things happening here.  I have not been paid for some of these things.  Actually, I haven't been paid for anything except the private ads.  Still, I should be left with $825.50 that I should have either put towards the emergency fund or the debt.  I received pretty much all of that money on the Thursday night before I left to go to the conference on September 30.  All of the liquid income then, was received on the very last day of the month.
Interestingly, I no longer have that much available to me to push towards the emergency fund or to the debt.  By the time I got back home on Sunday, October 2, my BF managed to spend $825.50 down to $527.49.  Yeap, he spent almost $300 before I even got to look at the account.
Now, I'm not a miser, by far.  I'm definitely cheap, but I'm not stingy.  I also believe that when you're in a committed relationship, any earned income jointly belongs to the couple.  The problem that I have is that I specifically told him that I would need to use that money to offset the costs of attending the conference.  Instead of taking my need to pay those NEW bills in full into consideration, he went on a spending spree, and he wasted money on stupid things. Let me list a few of them for you:
$12.56 on cigarettes.  I'm against smoking and he knows it.
$42.73 on McDonald's over two days.  I have no words.
$43.00 on two trips for $20 each to the ATM.  It cost almost 10% in fees to withdraw $40!
$74.67 at the Vitamin Shop.  I don't even know what he got.
And so it went on.  Lots of small purchases that he would not have made had I been home.  I find it to be dishonest and frankly, I'm ticked off. When I mentioned it to him as I was writing this post, be basically brushed it off with a "I won't spend your money again." That was not the point. I had told him that I needed the money, but instead, buying McDonald's, the Vitamin Shop, ATM fees, informercial crap and other things was more important to him.  This is why I urge you to make sure that you and your spouse or significant other are on the same page financially and in maturity.  Not only are we not on the same page, we're not reading the same book and it's not in the same language. That's a problem that needs to be fixed sooner than later.  It doesn't have to be "my" way.  It just needs to be a medium and make it "our" way.  Remember my advice and talk about this with the person that you are dating much sooner than later.
Okay folks.  That brings us to the end of this post.  I'd like to thank you for reading through to the end.  How did you do on getting rid of your debt last month?  Are you trending downward?
Join the newsletter
Subscribe to get our latest content by email.