It's September and you know what that means; back to school for the kids, back to my debt reduction course for you, and another time to chronicle the debt for me.  I like to remind everyone that the entire reason why this blog exists is to chronicle my journey out of debt while sharing everything that I learn along the way.
To that end, I am very transparent with my finances.  I post everything here on this site for you to see and have been doing so since my very first post almost four years ago.  Some of you call it brave.  Others think me stupid.  Whatever your opinion, I'm happy that so many of you come back month after month to watch my journey.
It's not always easy, you know.  I'm human and thus fallible, so yes, I make tons of mistakes along the way.  I've resolved to never be ashamed of my mistakes or foibles, but instead to see them as springboards for a "teachable moment".  Okay, remember that long ass excuse when you see the numbers this month.
The Debt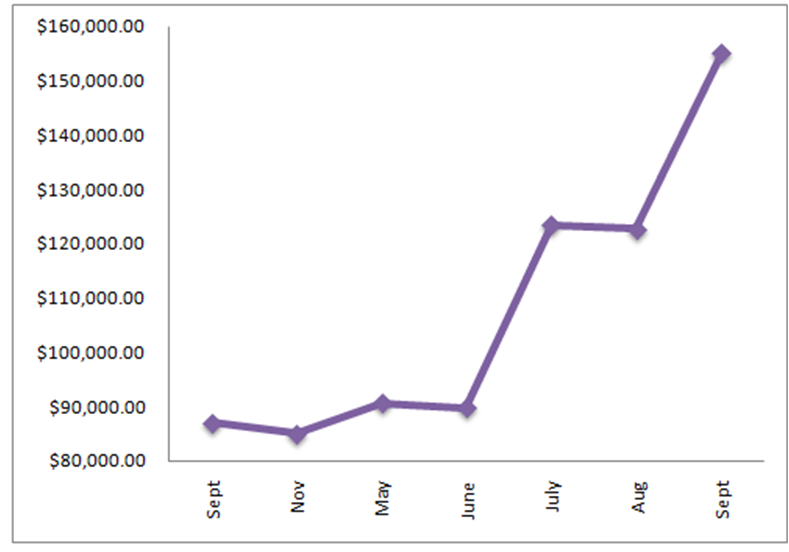 Whoa Nelly!  Yes, that debt is like the Energizer Bunny – it keeps going, and going and going and going.  But if you recall, I bought a new car last month after my car wreck the previous month.  That
car purchase
has my graph looking like the Swiss Alps.  But wait, there's more to come!
Remember that 401K loan that I took out to buy my latest investment property?  The plan was to replace that 401K loan with a loan from a line of credit or mortgage that I would take out on the property.  Well, surprise!  I've been approved and already deposited my check for the loan proceeds.  The thing, I owe more on the 401K loan than the mortgage that I took out on the house.  Big whoops.
So far, I've deposited that check into my ING checking account where I'm earning a 0.80% interest rate for the time being.  Once my 401K loan balance finally falls down to the amount that's now sitting in my checking account, I'll transfer the money over and just pay the loan off in full, leaving me with just the 10-year mortgage on the rental property.  Why didn't I just take out a larger mortgage, you ask? Good question!  Well, the amount that I asked for was 80% of what I believed that my property was worth ($45K).  Instead, the bank's appraisal came back at $63K, and I was too wrapped up in the aftermath of that whole car crash fiasco to go back to the bank to ask for more money.  Either way, the goal of backing into a mortgage and getting rid of the 401K is near.  Now, I'll have a loan where I can deduct interest payment from my taxes and I won't be tied to a loan that would go sour if I lost my job – or in my case, when I quit.
Has anyone else noticed that two of my credit card balances just keep going up?  Well, a few thousand dollars is owed to me by my job for travel and a few thousand came from the house renovation.  I haven't been reimbursed for expenses from my job in a month, but I should get a check soon to take care of at least one credit card bill entirely.  I'm still not a happy camper about having to carry their debt on my credit card.  They make a millions of dollars in profit every year.  They can certainly afford to pay their bills.
I'm not happy about my debt nearly doubling in less than a year when I've actually been working on reducing my debt.  Buying a house is one thing, but buying a car, especially when you didn't plan to, is another.  I'm somewhat frustrated with myself and this situation, but, I know that it could all be far, far worse.  If I did not have an emergency fund, many small financial emergencies would have driven my debt up.  Instead, my balance reflects the two major purchases that most Americans will ever make in their lifetime.  Mine just happened to occur within a six month period.  With my debt at an all time high it's time to get focused.  I'm going to go at this debt like Serena Williams at a tennis ball.
Okay, let's move on to how I did with making some money on the internet.  Again, I always want to show what's possible, but results will vary from month-to-month.  Also, I might have earned it, but chances are that I haven't been paid for it yet.
Online Income
Google Adsense YIAC: $128.63
Google Adsense MTFH: $2.12
Google Adsense Super Secret Site: $83.56
Google Adsense Shirataki Noodle Facts: $0.01
Google Adsense other: $0
Lijit Networks: $10.00
Ad network #1: $120.00
Ad network #2: $42.00
Private ads: $301.25
Webmaster Work: $339.55
Sponsored Tweets: $3.30
Total: $1,030.42
It was another stellar month of earning, but I could have done oh so much better.  Since I traveled for my job the majority of August, I had virtually no time to handle work that I picked up as a webmaster. It's fine because my impatient client will be getting his e-commerce site finalized in September and my earnings should reflect that.  It will be great because I can direct that money towards one of my bills.
On another note, while I still plan on quitting my job, I'm going to shift my timetable a little bit.  I absolutely have to pay off the car note before I can leave, because that debt killed my plans to buy another investment property.  It would have set me up with decent replacement income for when I quit my job.  I can't buy another house with this much consumer debt since it would strangle my cash flow.  It's cutting thing close as it is, since I'm still working on building an emergency fund while doing all of this. This seems like a daunting, almost impossible task, but I am determined to get rid of this debt by the time I turn 40 so that I can live the other half of my life debt-free.
Won't you join me?
Join the newsletter
Subscribe to get our latest content by email.