My gosh it's September already.  Do you realize that 3/4 of the year is already gone?  I feel like it was just yesterday that I was talking about the crazy snow storms in New York and here we are about to go into fall again.  Wow!  I guess what I've heard about time seeming to go by faster the older you get holds true.  It certainly seems that way for me now.
It's been yet another month of fighting the good fight against debt.  Some months are better than others and this is no different. Before I get into everything that happened in August, let me share the numbers with you in the pretty little graphs below.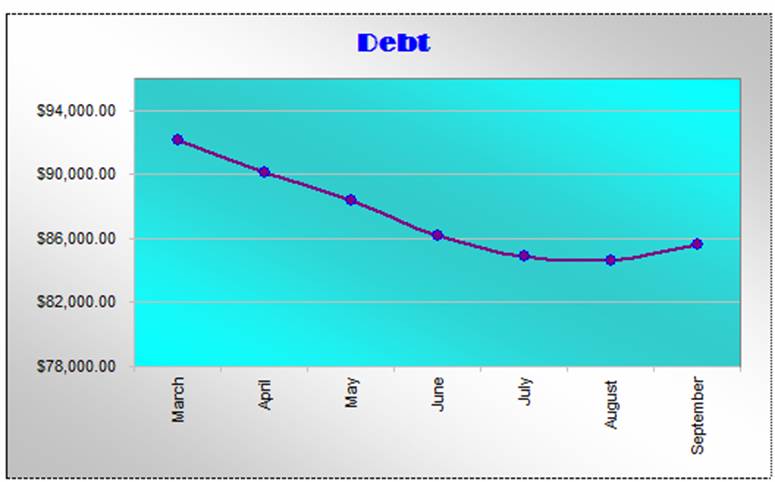 As you can see, August was absolutely the worst month yet of my debt reduction journey.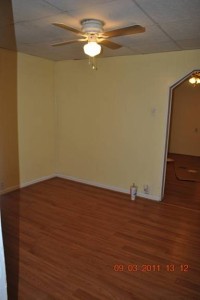 I completely reversed course and added $1,021.23 to my debt.  That's so not good.  I'm not good at making excuses, so I won't even try to.  What I will say is that I've been renovating the rental home myself and spending quite a bit of money to do so.  It's something that absolutely had to be done. Quite honestly I had expected the increase to be much higher than that but I've tried my best to keep costs as low as humanly possible.  Before and after photos are coming soon.  Alright, here's a sneak peak to the right.
I just completed the renovations two days ago and signed the property over to a management company.  The home now has to be inspected by the city and a certificate of occupancy issued.  Once that's all clear the management company should be able to find a renter relatively quickly since the home is pretty decent looking, if I'm allowed to toot my own horn.  Sorry for the darkness in the photo.  It was pretty late at night when I took the photo.  Actually it was almost three o'clock in the morning.  I have to fix the time on that camera.
But that's not really what pushed me over my budget.  What absolutely creamed me was an unexpected expense with my car.  I took my car into the dealer for something that should have been $200.  Five days, a rental car and $1,500 later  I picked my car back up from the dealer.  It turned out that in addition to the problem that I knew about was a breakage and leakage in something connecting to my brakes.  I was actually lucky that I took it in when I did because I could have been driving and my brakes could possibly have failed on me.  It wouldn't have been fun, I'm sure.  So, I paid it…with my credit card.
Some of you are really here just to see how much I managed to make while blogging in August.  Let's get right to those numbers.
Blogging Income
Google: $110.57
Adbrite: $1.05
Bidvertiser: $0
Sponsored Tweets: $0.76
Commission Junction: $0
Private Ads: $719.32
Total: $831.70
My goal is to make $1,000 every month from the blog.  I didn't make it this month for a couple of reasons.  I actually turned down a few ads because I either did not agree with the product or because, quite frankly, the amount offered was quite low.  The question for me at this point with the blog is this: do I accept everything that comes my way simply to make the money or do I continue to do as I have and pass on some things?  That's something that I should struggle with but I sincerely don't.  You can tell me how you feel about that in the comments.
You'll notice quite a bit of zeros up there.  That's because I removed everything except Google and private ads.  It's hard devoting as much time as I do to this blog and literally seeing $0.02 or $0.10 at the end of the month as earnings.  At that rate I would be better off devoting my efforts to couch fishing.  I'm sure that I'd earn more just pushing my hands into my mom's couch every month.
I changed direction with Commission Junction.  I removed all of their visual ads from the right sidebar.  You'll see a lot less clutter over there in the coming months.  What I will do instead is link to specific items that I would like to promote on an individual basis.  I don't want to bombard you with ads because you don't deserve it.
The problem with my earnings is that I am not actually getting the money!  Out of my earnings for the month I took home $100.  Not good.  I'm looking for health coverage for my boyfriend and plan on getting him onto something within the next month.  Having no health coverage is completely unsustainable and extremely expensive…especially if I'm the one paying for it.  I'm not a happy camper about that.
Alright, enough bitching.  I really need to have this apartment rented so that I can add back the extra few hundred dollars in rental income every month and I need to stop hemorrhaging the money that I earn from the blog.  I don't have much time until December to end the year on a positive note.  I can't end the year worse off than I began it.
Join the newsletter
Subscribe to get our latest content by email.