Can't Make Money On Twitter? Think Charlie Sheen!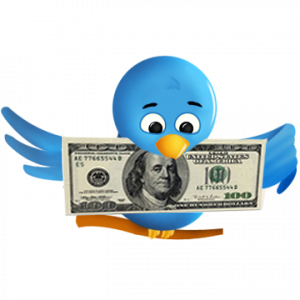 I know what you're thinking, not another article on Charlie Sheen.  This isn't an article on Charlie Sheen.  Well not really anyway.  It's about the massive power of the internet and Twitter.  What's a personal finance blog doing talking about Twitter?   The potential for making lots of money of course! First, I am not a social media maven.  In fact, I've said many, many times, that I think that social media can be detrimental to your finances which is why I have not signed up for Facebook, LinkedIn, etc.  I did, however, sign up for a Twitter account where I can immediately share things with you guys and interact with everyone.  But really, beyond that, I signed up for Twitter to make a little extra cash as well. Apparently I'm not the only one since Charlie Sheen has said that the only reason why he signed up for Twitter was not to chat with the lunatics that are egging him on, but to make money. Quite honestly, with over 2 million followers in a very short period, he stand to make lots and lots of money on Twitter.  The reigning financial queen of Twitter is Kim Kardashian, who pulls in a reported $10,000 for EACH sponsored Tweet.  Since Charlie Sheen is an A-lister and adding followers every day, I bet that his asking price can be at least double that and people would clamor to get a piece of the action. Say that you're not Charlie Sheen but you want to monetize your Twitter feed.  You're probably curious as to how to do so.  It's simple!  There are plenty of advertisers that want access to your followers.  These are my top companies:
There are a couple more networks out there but I can't include them here or endorse them until I have checked them out for myself.  I'll update this post as I try some new things. So how am I doing?  Well, I have 1,000 followers on Twitter (as of September 2011) since I don't promote it too much but I am making over $6.49 each Tweet since my Klout is rated at about 48.  For those of you who run blogs or websites or such, think of how much money you might make on Adsense per day, then think of how much you can potentially make by sending out one Tweet.  A friend with 7,500 followers makes over $25 each tweet. So back to Charlie Sheen.  He might be falling off the deep edge, seriously high, or simply a marketing and acting genius.  He has stirred up the web, whipped Twitter into a frenzy with things that he has said as the top trending topic within the U.S. for almost two weeks straight, and there seems to be no end in sight.  Consider the case of the photo below that Charlie tweeted.
Charlie said that he was not paid for the endorsement, but the farmer that owns the small dairy that makes the chocolate milk (Broguiere's Farm Fresh Dairy) has reported that he has been inundated with phone calls from as far away as India.  Talk about the power of Twitter.
If you're not on Twitter but you want to line your pockets, check out Budgeting in the Fun Stuff's 5 Ways to Make Extra Money From Your Home… Literally