When I ask my Hustle Crew why they want to make extra money from side hustling, one of the most popular answers is that they want to buy a house. A house is the single biggest purchase that most people will make but much of the transaction is driven by emotions which can lead to a financial disaster. The period before you buy a house is super important to landing the best deal. If buying a home is in the near future, you may want to take the advice of these leading experts for the things that they recommend that you need to do in the year before you buy a house.
I have owned investment property for some time now, however, I never thought that I would buy a home to live in for at least the next 10 years or so. My chosen city, New York, is notoriously expensive and I didn't see the value in paying nearly $1M for property for some time, however, that all changed when I had a baby and realized how much stuff babies need and how much we didn't have. My husband and I bought our home on the day my son turned six months old.
From the time we decided that we would started looking for a house to the time we actually closed on the house, the process took about three months. In that time we had put offers in on two different houses but those deals fell through. Between the time that we first saw our house to the date that we closed only three weeks passed. That's relatively fast, however, we had been chatting about buying a house from discovering that we were expecting, so, we had been preparing for some time. We had done a number of things right which sped our process up considerably. Break out your pen and paper because this will help you too.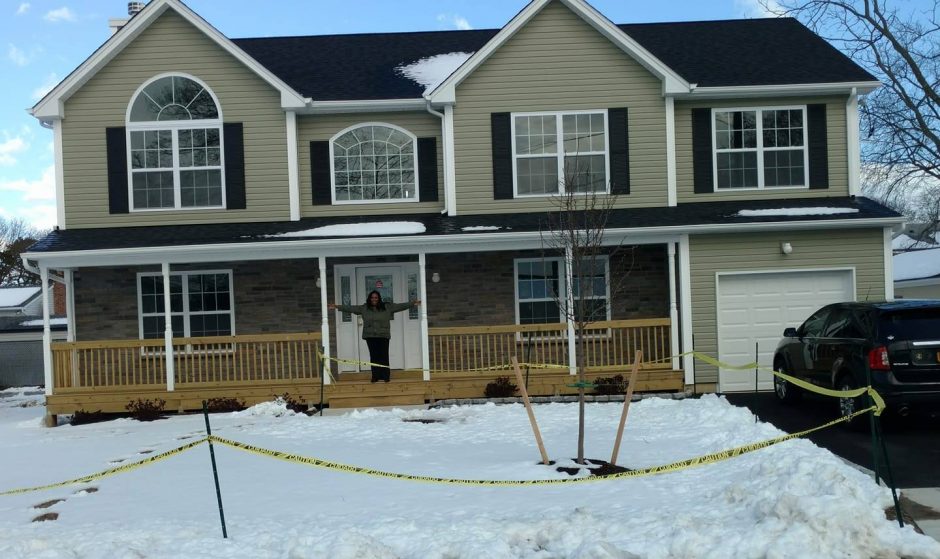 Check Your Credit Report & History
Where should you begin? Your credit history. Lance Cothern of Money Manifesto said that he would "check my credit to make sure there are no errors and I'd qualify for the loan and rate I'd want." Start by evaluating your credit report, credit score and credit history as they largely determine the mortgage rate you'll get. Your credit report shed light on your credit responsibility and worthiness. If you have remained consistent in paying your bills on time, it'll eventually show up your high credit score. The higher the credit score the lower your interest rate will be.
While we're talking about credit, you should know that you have a mortgage specific credit score. The only way to really see that is to order your full scores from myfico.com. It will cost you some money but it will be worth it to see what factors are affecting your score.
You should also pull your credit reports from all three major credit bureaus.
Keenly analyze your credit report; look for errors such as name discrepancies or address errors. Look for payment history on your accounts. If you're not paying on time consistently, start now.
If you're showing delinquencies contact your creditors to work out a deal. Oftentimes it's worth settling or paying something to clear up the issue than having an open negative item hanging out on your credit report, suppressing your score. Learn all about the factors that affect your credit score and start making changes to improve our credit immediately. While you won't be able to fix everything, you should be able to make some changes now that will put you in a better position in another year.
Save for Your Down Payment
Seems like a no-brainer that you should be saving money for a down payment, but I had to include it here. If you've saved money before, you've never saved quite like this! You should be squirreling away as much money as humanly possible to put towards your down payment and the many expenses that will pop up out of nowhere.
Michelle Schroeder-Gardener who teaches others how to make extra money through affiliate marketing says, "Find ways to make extra money. There are always extra costs that pop up and by making extra money, you can take off some of that financial stress that comes with buying a house."

Michelle has taken the non-traditional route of first living in an RV and now, traveling while living on a boat. Even a home like Michelle's might have additional expenses unexpected like blown engines or leaks so having additional income is super helpful. While you might not be able to add a second job, adding a side hustle to bring in some extra income might help you save more money faster.
If you have a longer time table for your home purchase, consider investing some of your money to grow your down payment faster. If you're investing, just know that you're taking on additional risk and that there are no guarantees.
Of course, you want your investment options to be as low risk as possible with a greater yield than a regular savings account. If investing seems risky, at the very least, you should have your money resting comfortably in a high yield savings account. Better yet, if you find one that will pay you at least $100 as an incentive for opening your account, go for it.
Casey Fleming, a former Mortgage Advisor says that you should, "save everything you can to get to the next threshold for your down payment. (Say, 5%, 10%, 15% or 20%). Pricing on mortgages is VERY sensitive to loan-to-value ratio."
In order to save though, you should cut down on unnecessary expenses like traveling, dining out, reckless shopping and heavy purchases and put that money towards your down payment fund. That will take the next step, budgeting.
Budget Review
Review your budget and apply a 28-36 rule if your aim is to maintain your credit health. If you're not familiar, the 28-36 rule asks that you restrict your household expenses to 28% of your gross monthly income and to not let your debt (loans and credit cards) surpass 36% of your income.
If you want to increase your odds of qualifying for the best mortgage
you should try to reduce your overall debt so that you can lower the amount of money that is committed to debt servicing. This indicates level of responsibility towards expenditures and give lenders insight into whether you are a worthy client to receive a mortgage.
Budgeting can be hard but little changes can add up, especially if you have a full year before you buy a house. Erin Chase, a fellow frugalnista and the creator of $5 Dinners says to "Eat rice and beans (or whatever your favorite uber-frugal meals are!) at least twice a week and squeeze out as many dollars from your food budget as you can! It's the line item in your budget that is the easiest to find 'extra' cash! Use those dollars for closing costs, avoid PMI, or to have cash to purchase new furniture, appliances and whatever other new home cost pops up!"
Your overall budget review is likely one of the hardest things that you will do on this journey. The actions that you do not take can be just as effective as the actions that you do take. Mindy Jensen, Community Manager for BiggerPockets, an online community for real estate investors, suggests that you do not take quite a few actions. She says, "I am not opening any credit cards, buying a car, furniture, big screen tv, etc. I am doing nothing that would jeopardize my ability to get a mortgage." In short, she is making no large purchases and neither you should in the year before you buy a house.
One thing that helped me was living on my new budget long before we actually bought the house. I would put what I expected my mortgage payments to be into separate savings accounts; that way, I got used to making the mortgage payments before I had an actual mortgage, and it also helped me save for the down payment.
Get House Ready
The entire reason for going through this process is so that you are best positions to buy the home that fits your needs. Knowing what you want and what you can afford is key to being prepared to make the leap into home ownership. There are just a few more things that the experts suggests that you do. Alanna Jackson Anthony of Financialdemics say that you should be, "looking for different home buying programs to see if [you] qualify. Review different mortgage programs. "
Get Pre-qualified
Of course, you'll need to know if you will even qualify for a mortgage and which type of mortgage will best suit your needs. You have heard of mortgage pre-qualification and pre-approval and likely use them interchangeably, however, they are not the same things.

A pre-qualificiation is the first step towards getting a mortgage but is all entirely based on the general overall information provided to your lender. Typically you provide your salary, general monthly expenses which includes debt servicing, and your down payment amount and you may receive a pre-qualification letter stating a mortgage for which you may qualify. Usually, there are no application fees or credit history checks. A pre-qualification allows you to get an idea of the type of mortgage that you may qualify for and a maximum budget for your home purchase.
You can take this step well in advance of your actual home purchase. The earlier you do this the better of an idea you will have of the potential maximum mortgage for which you may qualify and the type of mortgage that a bank would consider you for. You will also find out what your monthly mortgage payments could potentially be which could help you make adjustments to your budget.
Then Get Pre-Approved
A mortgage pre-approval is the next step which includes completing an actual mortgage application that will cover all your credit history, income, debt, financial records, and credit scores. This is a more invasive process that you should not do unless you are absolutely ready to seriously go shopping.

A mortgage pre-approval can assist in your home search as seller's agents will take a pre-approval seriously as you have already qualified for a mortgage. This will reduce the amount of time that it will take between offer and closing as you have already completed the vast majority of the mortgage process. I would begin this process between two weeks to a month before I am ready to begin looking at homes.

Waiting to complete a mortgage pre-approval will allow you to know the exact rate for which you qualify and you can even pay to have the interest rate that you are quoted locked in for a period of time. Mortgage pre-approvals expire after a period of time (generally three months maximum) after which you will have to submit paperwork all over again. It pays to wait!
Use an Online Calcultor
There's no hard and fast rule that you have to get pre-qualified or pre-approved for a mortgage. Plenty of people choose to do neither and instead use the plethora of online mortgage calculators that are available to assist them.
Crystal Stemberger suggests that you, "Look into the property tax rates, probable downpayment, the target home price, and interest rates and terms. Then I'd use all of that in an online calculator to estimate my monthly costs. "
Hire an Agent
Marsha Hill, a realtor at ERA Great American Realty Wichita suggests that you, "Call a good, knowledgeable, caring realtor like me who will begin searching for your dream home and guiding you along the way." Hiring someone who knows every bit of the field is much better than saving a few bucks and ending up with a bad deal. So, unless you have on-hands experience in real estate, it is advised that you find a realtor who will hunt down the best property for you in your desired location that is within your budget.
Find an Inspector
A great home inspector can be like money in your pocket. Amanda Grossman from Money Prodigy points out that you should, "Take the time now to find your own inspector based upon people's recommendations instead of one that is recommended by the seller's broker, the seller, or even your own real estate agent who is in the game to make a commission; not to necessarily protect you when something breaks six months later."
I went with an inspector recommended by one of the banks where I was pre-approved and that recommendation turned out to be a big financial win. He steered us away from a home that turned up hidden foundation issues that would have cost us nearly $70,000 to fix later on.
Research Target Areas
Your dream location might not end up being so dreamy once you actually live there. A few financial experts suggest researching your target areas well in advance and Ebong Eka, a CPA and small business consultant suggest that you consider renting in the area where you want to live first. That's not a bad idea because it gives you the actual feeling of the neighborhood. After renting there you might decide that it's not the right area for you after all.
If you can't move but want to get a feeling of living in the neighborhood, Kelly Whalen of The Centsible Life suggests that you, "Go hang out in [the neighborhood] every weekend. Talk to realtors. Talk to parents at the coffee shop (if you have kids) and ask them about schools, the best parks, etc." Parents have special considerations when it comes to their children because where you live can affect the quality of your child's education. Glen Craig of Free From Broke suggests that you simply, "Check out potential school districts."

Remember, Google is your friend and Jacob Wade of iHeartBudgets suggests using the Redfin App for research. He suggests that you, "Google best place for families in the area you want to live". In addition, Jacob suggests that you stop watching television shows like Fixer Upper which can skew your perspective of the homes that you will find. "[There's] too much glossing over what a project like that takes, and sets unrealistic expectations which lead to disappointment." Trust me, we both know from experience
Get Ready to Move
If you have not moved in some time, do not wait until you have found your dream home and completed the entire home buying process before you begin packing and purging. It took my husband and I a full three weeks to get packed and moved because we had lived in the home that we moved from for so long.
Rebecca G. Neale, a divorce, custody, and estate planning lawyer suggests, "Cleaning out the garage, the basement, the attic, the closets — anywhere that extra stuff lives. Decluttering now will make packing easier and moving cheaper. Bonus points if you can sell any of it and put the proceeds into your down payment fund! "

Veronica Flanders who is apparently a professional mover (just kidding) adds that, "Having moved 500 times now, I'd also start packing from now; like those plates and glasses we only use for entertaining. Anything I won't need for the next year I'm gonna start packing and labeling. And I would not depend on my partner to pack. That is a road to disaster. One smart idea is to take a picture of the box contents and tape it on the outside of the box." I could have used that advice when I was home shopping but doing so with a newborn was tough.
As you can see, there are a lot of things to accomplish before you really begin house hunting and it can be overwhelming, but, you have a full year before you buy your house. You can accomplish most of these things through careful repetitive action and the end result can be a home that you have prepared for, at a price that you can afford that will not squeeze your budget.
Jacob Wade has one last tip – embrace the mental aspect of being a home owner. "Dream big, enjoy the thought of making your house a home. "