Yoga is all about finding your Zen through meditation, movement, and mind-body
connection, but it can be a little hard to achieve inner peace when your yoga membership comes with a budget-breaking price tag. Once you factor in those cute but costly yoga leggings you spotted in the studio's boutique and the pricey mat you just had to have, your yoga practice can end up costing a big chunk of your paycheck. But that doesn't mean you can't enjoy yoga on a budget. With a few savvy strategies, you can savor your sun salutations without sweating the cost.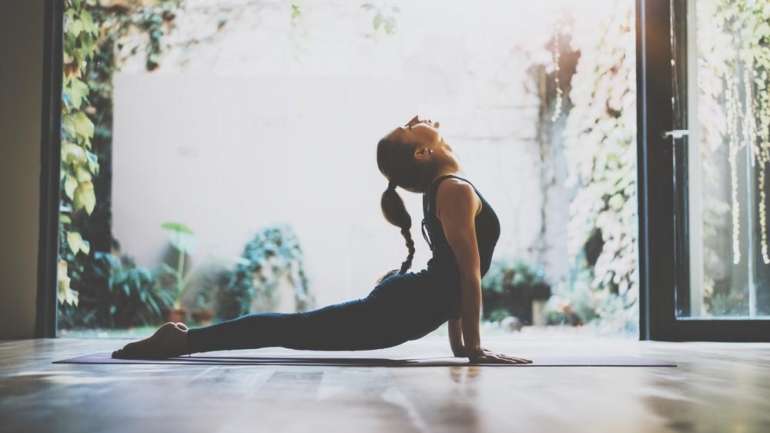 Try Before You Buy: Take Advantage of New Member Deals and Discounts
 Most yoga studios offer a deal for first-time students, whether it's a free first-class or a discounted rate when you sign up for a membership. Not only does this allow you to try out a class or two before you invest, but it gives you the opportunity to test out a few different studios around town before committing to one. Do your research ahead of time to see which local yoga studios offer free or discounted classes for first-time yogis, and don't hesitate to roll out your mat at a few different places before deciding which one works best for you.
Once you've compared classes, prices, and packages, and find the studio where you want to get your flow on, look online, or ask the staff about discounted classes and packages for new members. Oftentimes, studios will offer newbies a lower rate for their first month, or a set of classes at a reduced cost to start their practice with. And don't forget to ask about long-term discounts for students, teachers, or seniors, as well.
Purchase Affordable Yoga Attire and Gear
While some yoga apparel can retail at a triple-digit figure, not all yoga gear has to cost a pretty penny. Skip the impulse to stock up at your yoga studio's in-house boutique, where mats and apparel are often sold at a markup, and opt instead to purchase affordable yoga attire and gear. Cute, comfortable, and trendy yoga apparel doesn't have to break the bank, so you can score the perfect outfit for diving into a downward dog on a budget. Plus, buying your own unique, affordable yoga mat will save you the cost of renting one from the studio, while letting you stand out from the pack.
Sign Up for a Membership That Gets You the Most Bang for Your Buck
Once you've decided to commit to a membership at your local studio, it's time to carefully consider which package will allow you to make the most of your money. Most studios will offer several different membership options at a variety of price points, so it's important to strategically choose which one will work best for your schedule and your budget. Your studio might offer class packages with price breaks per class when you purchase more classes at once. They might also offer monthly or yearly memberships of unlimited classes.
Depending on your personal schedule and your studio's class schedule, and whether you plan to attend classes several times a week or only a handful of times a month, you'll want to pick a membership plan that will get you the most bang for your buck. If you're only able to get to the studio once a week, purchasing a set number of classes that never expire might make the most sense for you. But if you're planning to roll out your mat Monday through Friday, a monthly or yearly membership of unlimited yoga will allow you to get the best deal in the long run.
Skip the Studio and Check out Yoga Apps and Online Classes
If you're looking to really cut the cost of your yoga practice, forgo the studio altogether in favor of virtual yoga classes via apps and online videos. Apps like the Nike Training Club count a number of free yoga videos among their wide-range of virtual workouts, while other yoga-centric apps like Glo and CorePower Yoga on Demand offer free trials and affordable memberships for under $20 a month. With classes focused on yoga for beginners to classes aimed at building muscle strength, yoga newcomers can learn the basics while veteran yogis can advance their practice, all for a fraction of the cost of studio membership.
There are also a number of yoga video tutorials and resources online, available completely free of cost. Yoga Journal, for one, is a hub for all things namaste, with detailed guides to individual poses, articles on the basics and benefits of meditation, and a library of videos to serve yogis at any stage of their practice. YouTube can also be a useful resource for anyone looking to ditch the cost of a studio membership and practice yoga from home, but just make sure to verify the credibility of your virtual instructor to ensure you're getting a reliable and safe tutorial. And of course, while apps and online yoga guides are great for practicing yoga on a budget, without the hands-on studio approach, be sure to take extra precautions that you're careful and accurately moving through each sequence to avoid straining or injuring your body.
Research Local Yoga Events in Your Community
 Especially during the spring and summer months when you can roll out your mat in any outdoor space, yoga studios or even your local community center will often host free yoga classes around town. Search online or check out sites like Eventbrite to see if there are any free yoga classes or seasonal offerings–like yoga in the park–to take advantage of. And with trends like goat yoga sweeping social media, even your local farmers market might be looking to host an event for the neighborhood yogis. Even if these local events aren't completely free of charge, partaking in a pop-up community yoga event will definitely beat the cost of a full-time studio membership, and can be a great opportunity to tap into your Zen without the commitment.