If you were among the more than 145.5 million people whose information was compromised as a result of the Equifax data breach which took place in 2017, the FTC announced on July 21 that it has reached a settlement deal with Equifax, the Consumer Financial Protection Board, and all 50 states that are meant to compensate victims of this breach.
The settlement listed on the FTC site states that Equifax has agreed to claims of up to $425 million, however, media reports have listed that the settlement amount may reach as high as $700 million. The final figure will not be determined until the courts have certified the settlement amount. That is not expected to happen before January 2020, however, you may begin submitting claims for benefits under the settlement right now.
Under the terms of the agreement, consumers may elect six months of credit monitoring or a cash reimbursement which begins at $125 and goes up to $20,000 per claimant.  Not sure how to submit your claim? No worries, we're here to help you. 
Determine if You Were Affected
In order to begin your claim, let's first determine if you were affected. Go to https://eligibility.equifaxbreachsettlement.com/en/eligibility to determine if you are eligible. You will be asked for your last name and the final six digits of your Social Security number. If you are affected, the site will let you know that you have been impacted and that you may file a claim for damages.


File Your Claim Electronically or Via Regular Mail
Equifax gives you two ways to file your claim. You may do so electronically by clicking the "File A Claim" button or you may complete a paper claim form and submit it via snail mail. Should you need a form mailed to you, you may contact the settlement administrator to have a form mailed to you.
If is important that you check to see if your minor children were compromised as well. If they were a minor on May 13, 2017, you will need to download a minor claim form and submit their claims that way. Note, you may only submit claims for minors via snail mail. Everyone else likely should complete their claims electronically.
Confirm Your Identity
You may submit claims for cash payment (if you already have credit monitoring – more on that later), or for credit monitoring. If you would like six months of free credit monitoring, you do not need documentation and can just follow the screens for your claim. If you would, however, like cash, we have a bit of work to do.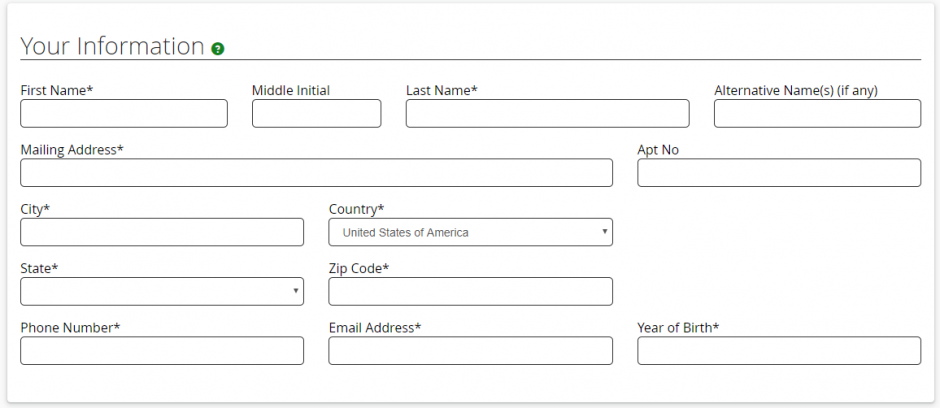 You will be required to submit your contact information including your name, mailing address, phone number, e-mail address and year of your birth.
Make a Reimbursement Selection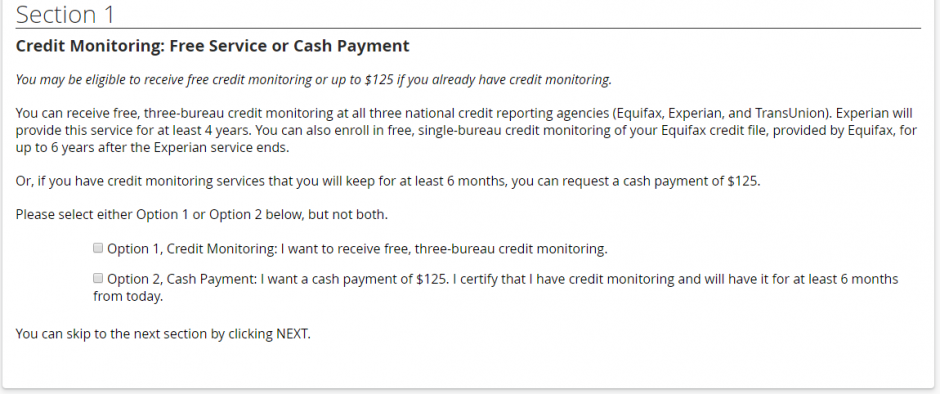 Section one is where you will choose how you would like to be reimbursed. You have the choice of credit monitoring or up to $125 if you already have credit monitoring.
Should you choose credit monitoring, it will be provided for an extended period first by Equifax competitor, Experian (which will provide monitoring at all three credit bureaus), and then extended monitoring through Equifax. If you want the credit monitoring, select option 1.

If you would like to cash, you must certify that you have credit monitoring services already and that you will have it for at least six months from the date of your claim. This is where many people are discouraged if they are not already paying for credit monitoring services.
You do not need to have credit monitoring from the credit bureaus to qualify. If you have this service through your bank, credit cards, or even through a free service like Credit Karma this all qualifies. Credit Karma provides monitoring for free to your TransUnion and Equifax reports. I have my alerts turned on and the second anything happens Credit Karma e-mails me. You can certify that you have credit monitoring by signing up for such a free service.

If you're all about the cash, you want to select option 2.
Add Time if Necessary
Section two allows you to claim money for time spent trying to recover from the data breach. Equifax will pay you $25 for hour for time that you spent:
recovering from fraud or identity theft caused by the breach
avoiding fraud or identity theft because of the data breach
placing and removing freezes on your credit profiles
purchasing credit monitoring services
If you are claiming 10 hours or less, you only need to describe the activity that you engaged in and each time that you did so. If you are claiming more than 10 hours in total, you must supply documentation that shows actual adverse action as a result of the data breach. That includes identity theft, fraud, or some other misuse of your personal information.

You may claim up to 20 hours of this kind of activity. That is worth a total of $500.
Add Financial Losses if Necessary
If you suffered monetary losses as a result of the Equifax data breach or if you have expenses related to the breach that had not been previously reimbursed, you may claim financial losses of up to $20,000. That figure is inclusive of any time claim.

Not claiming additional financial losses, just skip it.

There is an extensive list of what can be reimbursed on the FAQ's but per the claim website, they include:
Money spent on or after September 7, 2017, associated with placing or removing a security freeze on your credit report with any credit reporting agency;
Credit monitoring or identity theft protection costs you paid on or after September 7, 2017;
Unreimbursed costs, expenses, losses, or charges you paid on or after May 13, 2017, because of identity theft or identity fraud, falsified tax returns, or another alleged misuse of your personal information;
Other miscellaneous expenses related to any Out-Of-Pocket Loss such as notary, fax, postage, copying, mileage, and long-distance telephone charges;
Professional fees incurred in connection with addressing identity theft, fraud, or falsified tax returns; and
Up to 25% reimbursement of the money you paid for Equifax credit monitoring or identity theft protection subscription products between September 7, 2016, and September 7, 2017.
Generally though, if you have any costs that are traceable to the data leak you may submit claim for those costs. If you are unsure of what may fall within the parameter of the settlement, you may call the Settlement Administrator at 1-833-759-2982. You should know that only claims considered to be valid will be approved and paid.

Again, if you are not claiming additional financial losses, just skip it.
Choose Your Payment Method
Finally, you're at the end! You get to choose whether you would like a check (yes, please) which must be cashed within 90 days of receipt or a pre-paid gift card which does not expire.

I prefer to receive cash that I can use how I see fit. Pre-paid cards require a spend down. I treat money such as this as fond cash and it goes right to savings! Choose whatever works best for you.

Once that is all completed, you will be taken to a verification and submission page that will give you a confirmation number. I suggest printing the confirmation screen for your records as payments will not be issued any earlier than January 23, 2020.
That's it! You're all with submitting your claim for the Equifax data breach. All that's left to be done is sending this on to all of your friends since more than half of America was affected.
By the way, whether you submit a claim or not, you are entitled to two very beneficial and valuable items. For the next seven years, you are entitled to FREE identity restoration services if someone has used your information to steal your identity.
Second, starting in 2020, every U.S. resident is entitled to six credit reports per year for FREE from the Equifax site for the next seven years. This means that through the end of 2027 you can pull a credit report from Equifax every two months at absolutely no cost to you.
You may never actually suffer a financial loss from this very extensive data breach but at least with the ability to monitor your credit report for a full seven years, Equifax is making amends for not securing the data that they collect on consumers more closely and maybe this can help you feel a bit more secure.