About Sandy
Sandy has been a personal finance blogger since January 1, 2009 when she resolved to get out of debt, or die trying.  No, no, that was 50 Cent.  At age 29 she was frankly tired of paying living paycheck-to-paycheck and feeling as if she would never get ahead financially. The Cheapass Blog, as it was then known, was born out of sheer frustration with the hope of paying down a $120,000 debt much faster than the average debtor wihtout filing for bankruptcy.
From years of writing on the Yes, I Am Cheap blog, Sandy has tested numerous common techniques for getting out of debt including: debt consolidation, debt management plans, debt negotiation, working from home, the snowball technique, the envelope system, no spend challenges, extreme couponing and just about every other personal finance trick in the book.  She likes to refer to herself as the "guinea pig" of debt reduction techniques.
On January 1, 2013, Sandy resolved to see just how much she could reduce her debt in a two year period.  By December 31, 2014, Sandy successfully reduced her debt by over $50,000 – all during a volatile period of employment for her.  During those two years, she was unemployed for six months before working as a temp for ten months before converting to a full-time employee.  This achievement led Yahoo! Finance to name Sandy's story the #3 most inspiring personal finance stories of 2014.   Now a Certified Financial Education instructor, Sandy is dedicated to helping others put together their own formula for financial freedom.
Sandy is also a Senior Certified HR Professional; holds a Bachelor of Science in Biology from St. John's University and M.B.A. from Devry University's Keller Graduate School.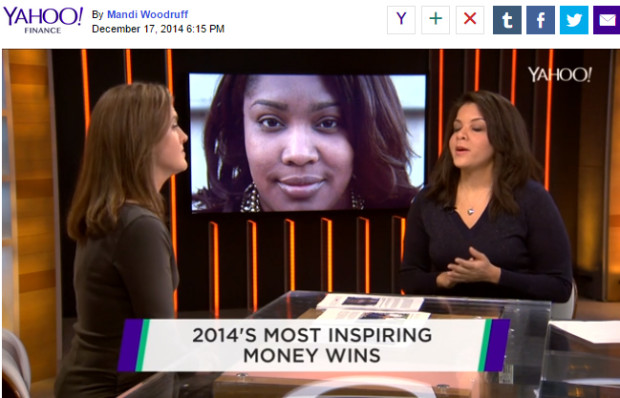 Crossing this significant milestone helped Sandy prove that combining proven debt reduction and wealth building techniques can overcome many barriers that folks encounter while getting out of debt.  Articles that Sandy writes focus on saving money, reducing debt, alternative income streams via a small business and living to your fullest potential, regardless of your bank account balance.
About Yes, I Am Cheap
Yes, I Am Cheap has been featured in both local and national media including but not limited to: The New York Times Magazine, Microsoft Money, Money Talks News, Kiplinger, Huffington Post, US News & World Report, Harvard Business Review, HR Block, Consumerist, Experian and Credit.com.
The blog has also been featured on countless other personal finance related blogs and is regarded among personal finance peers as a reliable source for witty but intelligent information. Yes, I Am Cheap has been a finalist for Best Debt Blog for the peer nominated personal finance award, the Plutus Awards for three straight years (2011, 2012, 2013).
Yes, I Am Cheap follows its principal writer, Sandy Smith, as she shares how she is getting out of debt, without resorting to filing for bankruptcy.   The blog follows a very conversational style that engages readers through stories and real examples – usually about the people in Sandy's sphere of influence.
Articles are occasional written by additional contributors.
Select Media Mentions and Appearances
Turnkey Properties: The New Millennial Investment (US News & World Report)
How to Throw a $5,000 Wedding (Kiplinger)
7 Big Financial Risks That Paid Off (Kiplinger)
The Most Inspiring Personal Finance Stories of 2014 (Yahoo! Finance)
How to Navigate the Gift Season Minefield (Wall Street Journal)
Use the SMART Method to Set Achievable Goals for Your Finances (Life Hacker)
Best Money-Saving Tips From Top Personal Finance Bloggers (Kiplinger.com)
When to DIY and When To Hire A Pro (Kiplinger.com)
Top 27 Stories of 'Life After Debt' from the Personal Finance Blogging Community (ClearPoint Credit Solutions)
5 People Who Paid Off Massive Debt (Credit.com)
10 Best Finance Blogs for College Graduates (Badcredit.org)
Podcast & Radio Appearances
Stacking Benjamins: Who Needs to Spend Oodles on a Wedding?
His & Her Money – How Sandy Smith Paid Off Over $50,000 of Debt
Stacking Benjamins 30 minute feature. STK 135 – D She Conquered a $50,000 Mountain of Debt
Stacking Benjamins roundtable: Can Deadbeat Facebook Friends Ruin Your Credit
Talk Credit Radio: Getting Out of a lot of Debt
This episode aired live June 10, 2013.
Television Appearances

Huffington Post Live on Purchasing Homes With 401(k) Funds
How to Save on Your Wedding with Experian

News Channel 4 KFOR: Saving A Buck: Mother's Day.
Based on Cheap Things To Get Mom on Mother's Day