[siteorigin_widget class="SiteOrigin_Widget_Hero_Widget"][/siteorigin_widget]
Let's focus on your business.
It's time to build your business – the right way.
[siteorigin_widget class="SiteOrigin_Widget_Features_Widget"][/siteorigin_widget]
Hi, I'm Sandy Smith, the founder of Yes, I Am Cheap and Colorful Money.  In 2009 I began my financial journey towards living a debt free lifestyle.  Using different techniques learned through my, I'm a debt guinea pig approach, I successfully reduced my own consumer debt enough to purchase two investment properties, in cash, and turn my net worth around from -$120,000 to +$200,000 in only 5 years.
I am a Certified Financial Education Instructor who also holds an MBA in Management with a concentration in Small Business/Entrepreneurship.  I am also a Senior Certified HR professional with experience working at large multi-national corporations.
For nearly 5 years, I worked in strategy and planning at Toyota, one of the world's most renown corporations, helping to craft long term business solutions while monitoring the automotive industry for changes that could affect Toyota's American operations.
I have started and run multiple business and taught hundreds of student how they too can start and run their own businesses.  I am, in a word, an entrepreneur through and through. 
I'm proud of my work

.
I've taught hundreds of people how to go from employee to entrepreneur. Here's what clients and students are saying: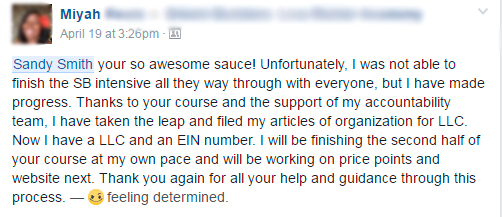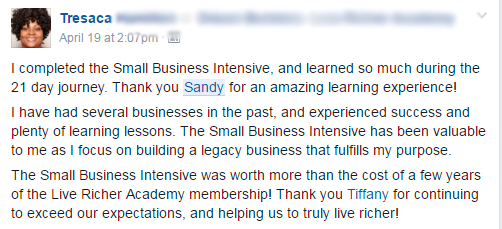 You can be the next success story!
If you need assistance with your business, I can help.
Here's why you need someone like me to help with your small business:
Learn how to legally establish your business

Discuss how and where to find products

Fine tuning your services and offerings

Increase revenue and create steady profits

Learn marketing and business skills

Expand your reach and find new customers

Craft a cohesive action plan for growing your business

Boost clarity about your business vision and big projects

Create sustainable motivation and accountability

Manage your time wisely

Prioritize your tasks so you know what to do first

Stop feeling overwhelmed
You will have homework, so be prepared to work as well!  To get started, click the button to the right to call me, or please leave a message if I am not available and I will call you back.  We'll take a few minutes to have a free exploratory call and you'll be able to decide if you would like to go forward.  
Because I'm 100% transparent, prices are below!  No surprises here. 
[siteorigin_widget class="SiteOrigin_Widget_PriceTable_Widget"][/siteorigin_widget]