The last year has been extremely volatile for investors across asset classes. Equity markets were down in the dumps in March 2020, after the COVID-19 pandemic decimated companies across sectors.
However, driven by federal benefits and quantitative easing measures, as well as a low-interest-rate environment, the stock markets around the world showcased a V-shaped recovery which meant the S&P 500 Index gained over 16% by the end of 2020.
The snap-back rally was primarily driven by companies in the tech and healthcare verticals. Let's take a look at the top five performing companies on the S&P 500 in 2020.
Tesla
The electric vehicle giant, Tesla, has been on an absolute tear in 2020. Shares of Tesla rose by 743% in 2020. Tesla was recently added to the S&P 500 index after it delivered five consecutive quarters of profits.
In 2020, the EV leader delivered close to 500,000 vehicles and is now the most valuable automobile company in the world with a market cap of $800 billion. The shift towards clean-energy will continue to drive demand for Tesla's automobiles, making the company a solid pick for long-term investors.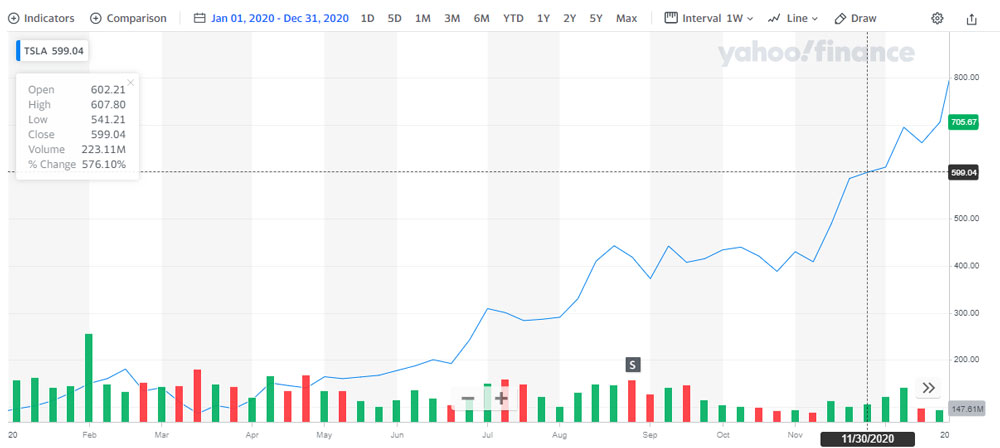 Etsy
The e-commerce space was one of the few verticals that thrived amid the pandemic. As people were stuck at home, they had no option but to shop online and the shift towards e-commerce accelerated in 2020.
Etsy shares were up 301% in the last year as the company is on track to increase sales by a stellar 97% year over year in 2020.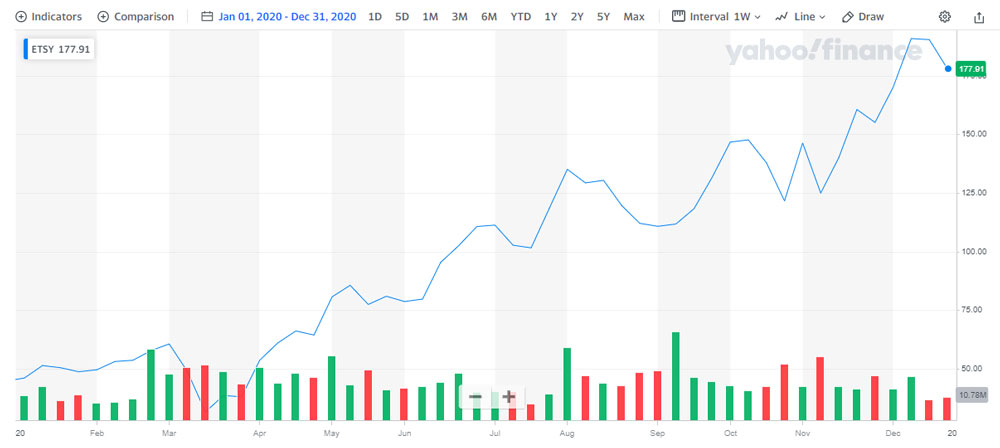 NVIDIA
Semiconductor heavyweight NVIDIA (NVDA) gained 122% in 2020 and its currently valued at a market cap of $322.5 billion. NVIDIA deals in programmable graphics-processor technologies. Its major business segments include GPUs (graphics processing units), media and communications processors and handheld and consumer electronics.
The company released new GPUs in its gaming and data center verticals, driving demand significantly higher. In September 2020, it also announced a $40 billion acquisition of the SoftBank controlled ARM Group.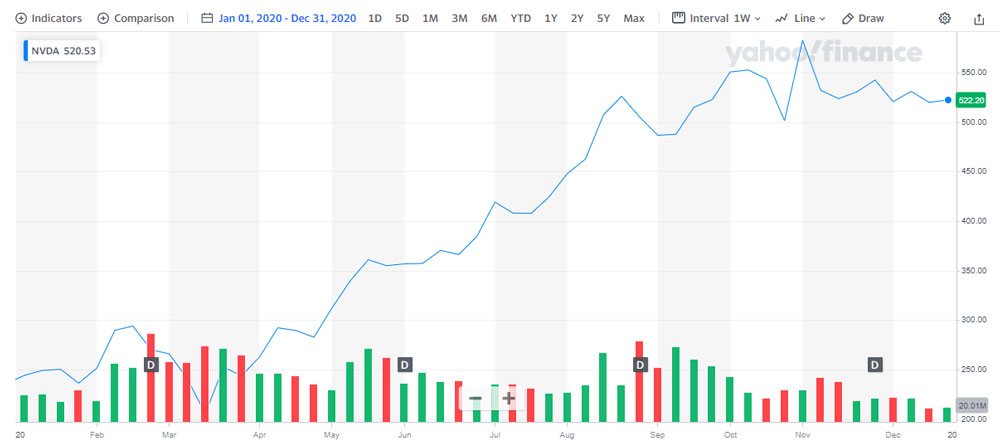 PayPal
The fintech segment was another space that gained massive traction in 2020. Shares of PayPal were up 116.5% last year as several people are now using digital wallets driving demand for the company's services higher.
In the last two quarters PayPal sales were up 25% year over year and it has grown its user base to 361 million active customers. The PayPal-acquired Venmo which is a peer-to-peer payment application platform is expected to be a key revenue driver for the firm in 2021 and beyond.
The PayPal management expects Venmo to account for $900 million of total sales in 2021.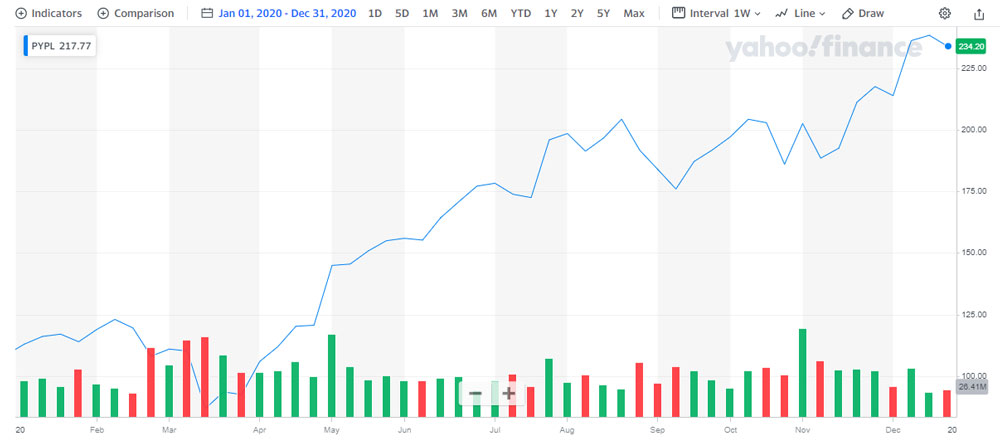 L Brands
L Brands is a company that sells apparel, personal care and beauty products for women. It also sells apparel and accessories for men. Shares of L Brands more than doubled in 2020 despite it closing 239 Victoria Secret shops in Canada and the U.S.
However, L Brands' expects to derive $400 million in cost savings in 2020 while its Bath & Body sales also rose 55% year over year in Q3, driving the stock significantly higher, amid the pandemic.