Woman looking at piggy bank[/caption]I know it may be hard to believe, but it's true.  I personally think that people who don't save money are dumb and probably making excuses and you know what?  I used to be one of them.  HELLO Yes, I am Cheap readers, my name is Tahnya Kristina, CFP and Sandy asked me to join you every now and then to chat about what's going on in the financial world.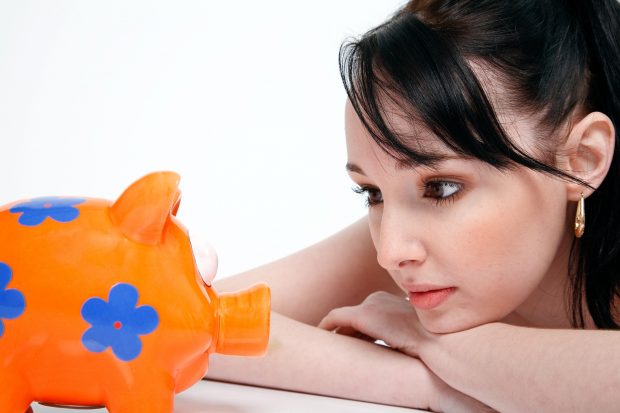 Did you get the CFP reference?  That's right I'm a Certified Financial Planner and every day I help people pay off debt, manage their money, save for retirement and find financial happiness.  Unfortunately I'm not one of them, at least I wasn't until a few years ago.
It's never too late to start saving money
There you have it, my big personal confession: I've worked in banking since I was 19, now I'm 35 and I never saved a dime until I was 32 years old.  You know the saying "Those who can't do teach" well that was me.
I would spend my days preaching the importance of saving money and teaching people how to start saving then I would come home to a pile of credit card bills and continue spending – even though I couldn't afford it.  The good thing about the whole situation was that I realized I had a problem, changed my habits and started saving.  When it comes to saving money it's better late than never.
Get educated about your money
As I look back on my old financial habits I can't help but think how stupid I was.  As a Financial Planner I can tell you that one of the main reasons why people mismanage their money is because they don't know any better.
They never learned how to save money or how to use a credit card responsibly and therefore they end up broke with debt and no savings.  However I didn't have an excuse because I did know how to do it, I just didn't take my own advice.
Change your money mentality, like now
Do you want to know how I did it?  I hit rock bottom.  Only then could I actually see how much financial trouble I was in and started changing my habits.  Before I could stop spending and start using my income to pay off debt (which I used to think was a waste of money) I had to overcome the need to have things.
I needed to spend money every day.  It didn't matter if it was a vacation to New York (my fave city in the world) or a new pair of shoes (yes I know that's cliché), I just had to spend money.  Once I went through withdrawal which lasted about a month I picked myself up off the ground (literally) and took my debit card out of my wallet and closed my credit cards.
Instead of getting a high from spending money I was becoming obsessed with how quickly I could become debt free.  Then and only then could I truly see the benefit of changing my habits – and that's exactly what I did.
I look forward to the next time we chat…
So that's a little bit about me.  As our time together goes on you'll read all about my life as a Financial Planner with an international bank and stories about my high (and low) net worth clients.  Of course names will be kept confidential for their protection.
Please feel free to reach out any time with questions about saving money, investing strategies and paying off debt or anything else that comes to mind.  I'm happy to answer your questions because if you're wondering the odds are so are other people and why are we here if  not to share the wealth.