There, I said it. It's what everyone else is thinking but are too afraid to actually say to you.  You're my friend, and I love  you, but really, it's your own fault that you're still unemployed.
That's what I've wanted to say to my friend that has been out of work for over  2 years.  She was laid off from her job at a top 5 investment bank after working there for 8 years.  Prior to being laid off she has been unhappy, – no, no, she was miserable – with her job and had actually been contemplating quitting to start a new career.  Recognizing the signs that they were probably about to start laying people off (I had been part of a layoff wave at the same company years before), I told her to stick it out until they were laying people off and if she was not part of the layoffs, asked to be packaged out.  That way she would receive a decent package (usually months worth of salary) and some other job finding assistance.  My advice was that until then she should brush off and update her resume, line up prospective people to be her references, figure out what she wanted to do, and generally get her ducks in a row.
Lo and behold, she was a part of the individuals that were laid off.  Somehow she was surprised.  I don't know why, but I wasn't and was she was sad.  Now, please understand my frustration because I was treated to her daily complaint for months before what I believed was a blessed occurrence.  The severance package was very generous.  She received 8 months' salary and would be on the company's paid health insurance plan for another 6 months.  After that she could purchase COBRA.  They also fully vested her in the 401K program which was worth tens of thousands of dollars.  They would also pay for her to complete any certificate program of her choosing and they lined her up with a job placement company whose services they had paid for.  All-in-all, I thought that it was great.
My advice to her was to hit the ground running.  This whole financial crash thing was starting so I told her to start looking for a job, and if she could take a few night classes to supplement her education (Associates degree which isn't enough) then she should.  What did she do?  She decided that she needed "some time off".  I didn't think that it was the smartest thing to do, but by time off I assumed she meant a week.  I would have said two weeks at the maximum.  Two weeks turned into something like 6 months.  That's right, it was six months of vacations, sitting on her ass, talking on the phone, shopping and doing nothing but being self-indulged.  At about the 6 month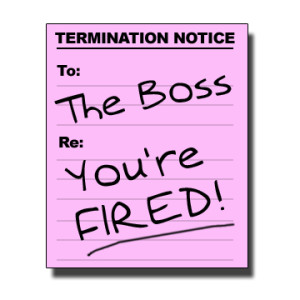 mark she received the notification that she would have to pay for her own health insurance.  That is what made her realize that she had been sitting around for 6 months doing not a damned thing.
At that point, she decided that what she needed was to change her career. Perfect, I thought.  The company will pay for her to take course leading to a certificate, but the course had to end within 1.5 years.  Great!  She wanted to go into the health care industry and there were plenty of either certificate or degree programs that could be completed within that time if she went full time.  What I was treated to was a long tirade about how "impossible" it was to complete 2 years of school within 1.5 years.  I pointed out that I completed grad school in that much time AND I was working full-time at the same time.  I also pointed out that she didn't need to take summers or winter breaks off and that would allow her to finish in the allotted time.  She thought that I was nuts.  Instead she enrolled in a slow and steady wins the race program part-time, night program with the luxury of summers off. Great, 'cause you know, that whole not having or looking for a job thing is really hard to do when you have school.
Fast forward to more than 2 full years after she has been laid off.  She is now on unemployment which is in the extension period signed by President Obama.  She is still working on a certificate and she in miserable.  I get phone calls from her daily that there are "no jobs" to be had and the jobs that are available are beneath her because of either 1)the low starting salary or 2) the hours or 3) what they want her to do.  I've reminded her that as a career changer she will start at the bottom.  I've told her that instead of changing careers (since that is making her so unhappy) perhaps she should go back to the banking industry where – believe it or not – there are now job opening since I get daily alerts about openings.  I've offered to sign her up to the mailing list and she has declined.  She's gone on a few interviews, but I am sure that her attitude about the work being beneath her is clearly evident on the interviews.  In short, she now feels like -her words, not mine – a bum, and I can't disagree.
You know why I don't disagree? Because it's your own damn fault that you're unemployed you idiot. Now stop calling me.
Did this post make you think?  Read the follow-up post, What's Keeping You From Finding A Job.