As some of you know, I attended the very first ever Financial Blogger Conference in Chicago over the October 1 weekend.  It was great to be around some like-minded people to share ideas, learn some best practices, and knock back a few cold beverages.  In one particular session about making money online, I asked the presenter about the potential for making money on Twitter since she had not really mentioned its ability to add some serious cash into your pockets.  When I mentioned that I was making close to $25 per Tweet, I felt the heads of everyone in the room whip around to see who was make that comment.
Ahh, I'm on to something, I thought.  They obviously haven't been reading my blog because I know that I have already covered making money on Twitter, but since I was swarmed after the session by people wanting to know how they too could make money on Twitter, I don't see why we can't cover it again.  But first, I know that you want proof, so here it is.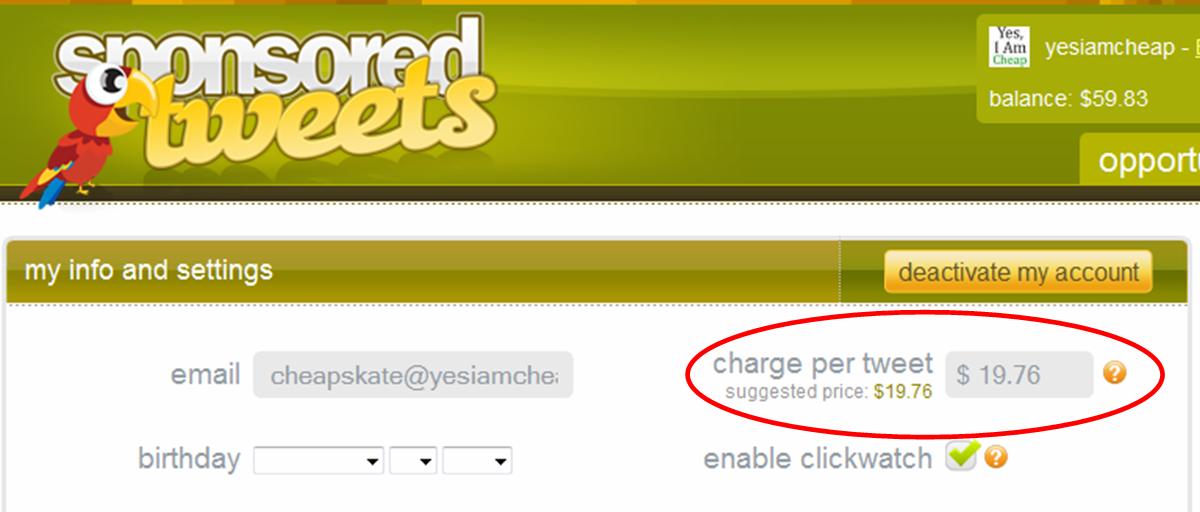 Tada! That says $19.76. See?  I was telling the truth.  I actually do make $20 per Tweet on Sponsored Tweets. Okay, it's not exactly $20 today since the price fluctuates up and down but it's close enough.  Now you'll want to know how I did it and how you too can make as much as I do on Twitter.
It's really pretty simple.  You have to be an expert in your area.  Well, Twitter has to think so anyway.  It doesn't really matter how many followers you have.  What does matter is how engaged you are with your followers, how much they retweet you, the conversations that you have on Twitter and consistency in the topic that you speak about.  In other words, you have to have some decent Klout.  If you Tweet you should be familiar with Klout as well. If not, sign up and check out your Klout score.
The whole point about Twitter is not just that you push things out to your followers.  You should be having short but meaningful conversations with them. This isn't MySpace.  There is no race to see how many followers you can get.  At the same time, you might want to weed out who YOU choose to follow.  You see, when you follow people and others follow you on Twitter, you've created a network.  The responsiveness and influence of your network counts as a part of your Klout score.  Because of this I do not automatically follow back anyone who follows me. I do this because I want to be sure that the people who I follow are all specifically personal finance writers or work within the personal finance area because that is my subject area.  In fact, I've been going back through my list and purging people who have not posted on Twitter in some time.
But all of this doesn't matter if you don't sign up for Sponsored Tweets.  They essentially act as your broker and take a 50% cut of your earnings.  So, even though I am making almost $20 per tweet today, they also take home almost $20.  You can always put a per Tweet price that is higher than their suggested price if you have a target in mind.  I also suggest that you check your suggested price often because it changes pretty often, sometimes on a daily basis.  Even if you don't like Tweeting for cash, you do get 10% of an accepted Tweeter's money who signs up with your referral link (sign up!).  How's that for ultra passive income?
You can also increase your Klout score by attaching your other social media microsites (Facebook and the like) to your Klout profile. Lastly, if you're really popular, you can ask your Twitter friends to sign up for Klout and give you a +1 rating in each of the categories that you would like to rank highly for.
Let me sum it up for you, STEP YOUR GAME UP!
And that my dears, is how I am making close to $20 per Tweet, and you're not.