It's September, the kids are now back in school and vacations are over. Time to take a breather, right? Nope! It's time to hit the malls to stock up on off season sale items. If you time your shopping just right, you can save some serious bucks on things that you can use right now or store away for use next year.
Clothes
It's Fashion Week here in New York right now and while everyone else is looking at clothes for the Spring and Summer of 2012, I'm picking up clothes from the Summer of 2011. Stores are already stocking winter merchandise and they need to make room to put out all of that new stuff. So, instead of buying winter clothes, I'm buying their old inventory that they're desperate to get rid of RIGHT NOW. While summer clothes are a really good buy right now, so are a few other things. Planning a trip to somewhere warm? Get your bathing suit now for pennies on the dollar.
School Supplies
My mom stocked up on school supplies for the year by hitting up Staples for their back to school specials. When else can you get crazy deals like pens and pencils for $0.02 each! I couldn't get them cheaper if I stole them from work…allegedly.
Lawn & Garden Equipment
I don't know about you, but I'm not out there cutting the lawn and planting a new garden in the fall. If the home improvement stores still have inventory left over, now is a great time to pick up some lawn care items. Been eying a new lawnmower? Get a good deal while you still can. If you're so inclined or if you have a greenhouse, stores are practically giving away their summer plants. How about a new barbeque or grill? While I've been known to grill in the winter, not everyone does, so you can snap them up at a discount NOW.
Weddings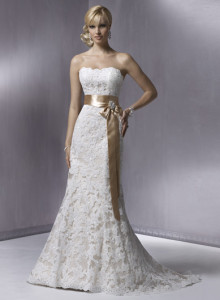 I know that this one will sound a little weird, but wedding season is in the Spring, not the Fall. Unfortunately, lots of people order dresses and never end up getting married. You can get a ready to wear dress or even order one now for much less than it would be as wedding season approaches. Also, if you want to save money on your wedding, you are less likely to be competing for others for your venue and services. Since this is the off season (no proms, few weddings, no Christmas parties) you can probably negotiate a good deal on a venue and services if you're get married in this season. P.S. I am loving this little number to the right.
Outdoor Gear
This isn't exactly the hiking and biking or baseball season, but it is hunting and football season. As long as you're shopping in the opposite season of what's in, you could save some money on your sporting gear. For all of you people going back to the gym to work off you summer vacations, fitness season is approaching. You can probably score some good deals on workout gear right now. But if you can't find a deal you can always use discount and promo codes to save you money all year long.
New Car
I'm not Bob Barker so I can't give you a new car, but if you're going to buy one anyway, dealers are just about ready to clear this year's inventory of cars to bring in next year's models. Psychologically, we always want the latest thing, but lots of new cars have one or two tweaks or "refreshes" as they call them, to differentiate them from the previous year's model. That's is if it's not a totally redesigned model. If you don't mind buying a 2011 car – it's still new – you can save big when you take advantage of clearance sales.
Electronics
I surprised you with that one didn't I? But are we forgetting a little thing called Black Friday? I have never seen sales on electronics that can rival the ones found on Black Friday. I'm not talking about the door buster sales when you have to line up from 10 p.m. the night before to snag a chance of getting one, but the every day sale that any sane person can get to on that day. I purchased an external drive for 50% off Black Friday night after strolling into my local Staples at around 2 p.m. I wish that I had bought 10 more and sold them on eBay. Stupid, stupid, stupid. Next time.
And as always, if someone else has beaten you to it and snatched away the things you had hoped to buy, better luck next year.