As you guessed from the title, this will be a not so safe for work article. You might want to bookmark it and come back later when your boss is away so that you can shake your head in disbelief.
I have the occasional rant. I mean, who doesn't right? But I've been holding off on this one for MONTHS to actually give Bank of America the chance to make things right. I'm just at a point where I can't take this shit anymore so I have to share it with you.  It all started with a mortgage.
My mom bought her home 18 years ago and obtained a mortgage from a little company we will call Countrywide.  All was well for a few years until she was hurt at work and eventually became permanently disabled.  Not to worry, my stepfather had a steady job at a company that he had been with for years, so they took it in stride and did what every white picket fence loving American (well almost) couple would do and made it work.  They were diligent and paid their mortgage on time, sometimes adding a little extra money here or there to pay down their balance a little faster. In the meantime, Bank of America bought Countrywide and my mom's mortgage in the height of the Great Recession.
In stepped the Recession and my stepfather's company closed its factory in New York and he was left without a job.  It's tough to find a blue collar job in New York City when you're in your late 50's.  I'd say that it was damned near impossible.  I remember being a kid and going with my mom to Long Island City to meet my stepfather a time or two.  Back then the area was filled with plenty of factories and places where you could make a decent living and support your family.  Fast forward about 20 years and those factories are now luxury condos and lofts.  Those jobs are gone.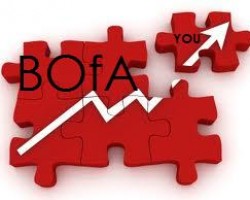 But again, my parents made this situation work.  My mother's disability check is close to the amount that they need to pay the mortgage and my stepfather decided to pull his pension a little early so that they could pay the rest of their bills.  When my mom learned about mortgage modifications, she thought that they would be perfect candidates for it.  She went ahead and applied for the mortgage modification.  Mind you, they were not behind on their mortgage payments, but yes, it was a little difficult to make ends meet without drawing on their savings, but they were doing it.
At some point in the process my mom called to let me know that she was looking into a modification.  I advised her against it because even though she probably would qualify, it would not be in her best interest.  Why?
The banks don't do modifications to benefit you, they do it to benefit themselves.  If she received a modification, all they would do to lower her monthly payment was just extend her mortgage term.  It would earn them thousands of dollars more in interest because she would be paying them much, much longer.
She had a little less than 7 years left on her mortgage.  If they could hold out that long the home would be theirs free and clear.
They have some habits, which if changed, would result in some potential monthly savings which could give them a little bit more of a financial cushion
If they had problems paying the mortgage there is absolutely no doubt that my brother and I would help them.  We would never let my family end up on the street
If you're conditionally accepted into the program, pay a lower amount for a while and are ultimately rejected from the program you will immediately owe the entire difference between your regular mortgage payment and the lower payment amount.
My coworker who had received a notice of impending foreclosure notice had tried to get a modification (read the story) and after months of being given the run-around, given up
Bank of America already had a reputation of foreclosing on homes and I personally didn't trust them
Now, this is where I get a little ticked off with my mom.  She never mentioned to me that she had already applied for the mortgage modification until things went south. My mom and I jointly own a home equity line of credit ("HELOC") on her home for which I am 100% responsible.  I make all of the payments.  I don't even think she knows what the balance is on the HELOC because she doesn't even get the mail.  I do.  When she applied for the modification, Bank of America automatically closed the HELOC.  It's not surprising because the terms are pretty standard that if you have a second mortgage on the house when you apply for a modification, that one becomes due since they are afraid that you won't pay it.  When she was told the disclosures over the phone, she never connected a HELOC with a second mortgage and thought that all was fine.  It wasn't until she received a letter in the mail stating that because of changes in her financial situation, the line of credit was closed and we had a certain amount of time to pay it back that she became alarmed.  So much so that she didn't even bother calling me herself to tell me.  My brother called me at work to tell me.
I was absolutely livid since I'd had no clue that she had applied for the modification.  The significance in the HELOC being closed would not affect my mother much, but it would affect me.  You see, your credit score is based on a number of things including your current balance versus the amount of credit available to you.  With the HELOC closed, the available balance effectively went to zero but the amount that I owed was still close to $40K.  It would have killed that ratio and killed my credit score and probably affected hers as well, but her credit score was less important to me than mine.  Selfish, I know, but my mom completely lives on a cash basis, never applying for credit, while I am the opposite.  Your credit score affects everything from the amount that your car insurance company charges you to your ability to get a job.  This is especially true if you work in the financial sector.  If you work in finance and you have a crappy score, you are viewed as irresponsible and no one will hire you. It's unwritten, but true.
Since I was at work I couldn't hit the fan like I wanted to.  Instead I called my mom.  She said that she had already spoken to Bank of America to withdraw her modification application.  When I explained to her all of the implications that a closed HELOC would have on me, she felt a little guilty.  My mom is not American and frankly doesn't understand the entire financial system.  All she knows is that if you get a bill, you pay it and you pay it on time.  So, I called Bank of America and asked what I needed to do to have the HELOC reinstated.  My mom thought that it would be a simple process that would take a week.  I knew better since I was basically reapplying all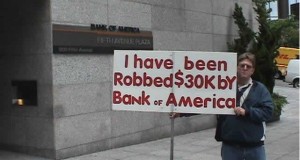 over again for the HELOC and the entire mortgage industry had changed.
Thankfully, I live in the digital age and had every piece of documentation that was needed already handy.  I downloaded everything and faxed it over – prepared to do whatever I needed to have the HELOC reinstated.  It took a couple of weeks but I finally got an answer.   The answer shocked my mom.  Me, not so much.  The application was denied because even though my income alone would be enough to qualify, my mother was accepted into the loan modification program for her primary mortgage.  Why was my mom shocked?  Recall that I said that my mom called to have her application withdrawn weeks before it had even been processed.  According to Bank of America, they went ahead and processed it anyway and she had been accepted.  To be fair, the HELOC was eventually reinstated, but what has followed has been a tangled web of out-and-out incompetence at a company that's too large to be efficient.
After speaking to the line of credit reps, my mom asked to be removed from the mortgage modification program.  At that point she had not even received paperwork in the mail letting her know that she had been accepted into the program.  Again, she had asked for her application to be withdrawn before it had been processed.  The rep that my mom spoke with assured her that it was a simple process to be removed.  She would put in the request and my mom would be removed from the program within five business days.  Those five business days has turned in to months and countless phone calls, multiple reps, hours on the phone, a stressed out and sick mother and a pissed off daughter.
My mother sent her normal mortgage payment into Bank of America thinking that all was well.  She did the same the following month and even sent in a little extra in an attempt to pay off her loan a little faster.  She first inkling that something was wrong was when she went online to check her mortgage balance and saw that her regular payment had not been applied as it normally should have (principal, interest and escrow) and her extra payment had not been applied at all.  It had been kept in a separate account and held.  This was way back in April.  She called to have it fixed and was told that she was still in the modification program, but all it took was removing a code.  Code 6.  Great!  That's done right?
No, they did it again in May. It seems that the modification code had not been removed but they would so it this time.  Promise. Well, they did remove it.  Weeeell not exactly.  My mom surprisingly received a refund check from her escrow account saying that she had overpaid it.  She cashed the checking with the thought that she would just send the money right back and have it applied to the principal.   She thought that everything was finally fixed, again, when she started receiving phone calls welcoming her to the modification program.  She tried explaining that she was not in the program at all so she was unsure as to why Bank of America kept calling her to welcome her to the program.  That is, until she received a welcome packet into the modification program in the mail.  Alarmed, she logged into her account online only to find that her most recent payment had been held by Bank of America again and not applied to her mortgage.   After rounds of phone calls to Bank of America she was told, again, that she was back into the modification program.  At this point she had asked her application to be withdrawn, asked to be removed from the program multiple times, had been told that she had been removed from the program, but somehow they kept putting her back in.
This took us all the way into August when she found that her payment had again, been held and not applied to her loan. Completely frustrated, she was determined to once and for all be removed from the modification program. After being transferred all over the country and to different parts of Bank of America, she finally spoke to a supervisor who stated that she had the authority to remove  the modification codes but that it would take 48 hours to have it applied.  She instructed my mother to call back on the third day to verify that all had been completed.  During this entire period, I pretty much kept on the sidelines because frankly, she had gotten herself into that mess, and I was letting her get out of it herself.
Following instructions like a dutiful person, my mother called back, but just like Jesus, on the third day the modification rose from the dead.  After spending about 45 minutes on the phone with multiple reps who couldn't help her, my mother was on the verge of tears and called me on her cell phone while again, on hold with Bank of America. At this point it was time for me to step in because no one deserved the five months of frustration that my mother had endured.  I figured that she had had enough punishment and was at her breaking point.  And honestly, the stress was killing her blood pressure.  So, even though I was at work and busy myself, I asked my mother to hang up and patch me in on three-way with Bank of America.  I wasn't going to let another day pass by with some satisfaction.  So there we were: me, my mother and a Bank of America representative.
For those of you who get my Twitter feed, you might remember my live, real time blogging on August 8th of the entire experience of being on hold with Bank of America and being transferred no less 13 times while every single person professed to not being able to help my mother.  We went to the foreclosure department, the collections department, and every single department but the loan modification department which was where we needed to be.  Apparently, if your loan is in modification no one and nothing except an act of God can do anything for you, but I guess the people working in Bank of America's multiple customer service departments don't know that.  We asked multiple times for a supervisor and representatives flat out refused to get one.  Instead they just transferred us to the next department in a cruel game of hot potato.   If this is Bank of America's idea of customer service, I don't think that I've ever encountered anything worse and their entire mortgage servicing department should be shut down tomorrow.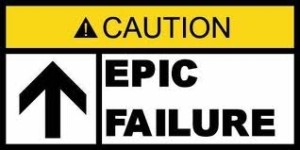 In the meantime I had patched my brother in.  We were now four people on the line at some points.  Me, my brother, my mother, and the hold music for Bank of America.  At some point in our conversation, my brother, who had been patched into our call while he was 20 minutes away actually got to my mother's house and took over the phone call from my mother's end.  Every time we were transferred I Tweeted it.  Every time another customer service person said something stupid, I Tweeted that too. See, I know the power of social networking.  I might only have 1,000 followers, but my followers have followers too.  And guess what, their followers have friends and followers as well.  The day was not going to close without me speaking to someone who knew what they were talking.  I threatened to blast the entire experience that my mother had had with Bank of America to everyone in a scathing post the very next day.
We were finally, finally, transferred to someone who said that she was a supervisor and that she did see a modification code attached to the mortgage.  She would enter a request to have it removed but it would take up to five business days to have the code removed and all of my mother's payments that were being held and not applied, reapplied to the mortgage in the correct way.   I guess all of my Tweeting also got the attention of Bank of America because someone from their Twitter customer service reached out to me on Twitter.  I won't put his name here because I know that he is trying to do his job, but the behemoth in which he works is set up to make him fail.  I gave up my semi-anonymity and gave him all of the information that he needed to contact me to get everything fixed.
I was called probably within 30 minutes of sending him my information.  I patched my mother in while I explained the situation to him.  He too was unsure of why we had been transferred to so many departments including the Arrears department when my mother didn't owe any money. He promised to find out as much as he could and get back to us immediately.  To his credit he has done everything that he said that he would do. But again, he's working in a shit system.  It took him two tries and about two weeks before the modification code was finally removed from my mother's mortgage.  All should have ended there, right? No, this is Bank of America that we're talking about.
Remember that refund check that my mom received for overpaying her escrow? She was send a letter in the mail saying that there was a large shortage in her escrow. Not thinking, she sent a check to cover the shortage, but when the wheels finally began cranking in her brain, she wondered why there was such a large shortage.  She called what I'm now going to call the worst Customer Service Department in America and was told there the modification department had put a code on the escrow account, so she needed to add more funds to it.
If I didn't know better, well, actually, I don't know better, but I'm inclined to think that they're doing this on purpose.  It's now mid-September and we've been going back and forth with Bank of America since March.  I wish that I was exaggerating, but I'm not.  I'm sure that their call logs and paper trail with also verify everything that I've said.  I was so prepared to never publish this, but good Lord Bank of America can't you get ONE damn thing right? On my life I have NEVER seen a company so rife with such a bureaucratic shithole that they can't tell their assholes from their elbows. I know that there are good people working at Bank of America. I know it. I know that people genuinely try to help but they can only get so far with their hands tied. You don't need a PR team. You need a full on crisis management team to deal with the entire fucked up situation that you've created with your mortgage and modification departments.
When I would read the stories of how Bank of America foreclosed on homes that had been paid for in cash, or how they threw people's stuff out on the lawn on a home that had never had a mortgage, or how they, along with other large banks were forced to halt foreclosures because they couldn't prove that they actually owned some of the homes, I genuinely hoped that they were one-off stories.
With a corporation as large as Bank of America, mistakes can be made even though the repercussions are high for the homeowners involved.  But after this entire fiasco, I can't say that these things are mistakes.  I think that Bank of America is systematically not giving priority to people genuinely in need of modifications if the homes are located in less desirable areas to focus on homes and mortgages where a modification would make the most profit for the bank.   My mother, less than 7 years away from paying off her mortgage, not upside down on her home, who has made extensive improvements to her home is one of those people.  She has never been late on a mortgage payment and pays well ahead of time, even padding her payments to pay of the loan soon since every extra dollar adds up over time.
Bank of America is not taking seriously all of the people that are in danger of losing their homes.  They don't give a shit. My coworker is always one to two months behind on her mortgage.  She was in dire need of a modification and tried hard to get one.  I saw her frustration too when Bank of America kept asking her over and over for the very same documents.  I would help her fax over documents on one day only to have the loan officer call or e-mail her two weeks later to ask for the same documents again.  This happened so many times that she lost count.  They eventually sent her a letter saying that she was in danger of being foreclosed on if she didn't catch up by a certain date and they urged her to call the loan modification department to apply for a modification.  It made absolutely no sense because she had been trying for months to modify her loan and was unsuccessful.  She can't afford her home since what was once a two income family is essentially now a one income family.  She has a high variable rate loan and she can't refinance because her credit is shot to hell.  This is someone in need of a modification, but after months of supplying every document that she has been asked to supply she can't get an answer from the bank, yet my mother, who asked to have her application withdrawn can't get out of one she didn't need and didn't want.
Bank of America is helping people in genuine need of modification to spiral down into foreclosures.  For many people unable to pay their mortgages on time, but are genuinely trying to save their homes you essentially need to stop paying your mortgage altogether and ruin your credit before they even think of approving you for a modification.  But my mother, again, who does not want a modification can't get out of it no matter how much she tries.  She is someone that pays her bills on time with a credit score approaching 800, so I understand that Bank of America wants her as a customer for as long as they can because they can make money off of her and she will pay her mortgage. She wasn't even conditionally approved for a modification, they just put her into one immediately.  Typically you are conditionally approved as your application is being processed and you are told the lower payment amount to make.  If you are ultimately not approved for the modification you have to immediately pay the difference between the lower amount that you were paying and what you would have paid if you were not in a conditional modification program.  So, let's say you were paying $1,500 a month for your mortgage and you're told to pay $1,000 a month while your application is being evaluated.  Since they're supposedly backlogged with applications, it takes them 12 months to get back to you to tell you that you were not approved.  You then have 30 days to catch up and pay $6,000 which is what the difference would be immediately or they will foreclose on you.
Not only is this regularly happening to people like Dave Graham, but it also happened to someone that I know.  Remember, I once worked for a the wholesale lending department of a large, well-known bank.  I know the bullshit that loan originators pull and I know that underwriters have some leeway with loans.  I have seen loan originators give priority to the loans that they know won't have a problem being approved.  They handle those files first because, guess what, they, as well as the underwriters all earned a small commission on each loan that was approved and closed.  If you have 50 loans on your desk, you'll give priority to the ones that will earn you money and get back to the ones where you suspect might not make it through to approval.  While I was in training I used to be the one to clear the non-priority loans that originators had sitting on their desks sometimes for months at a time.  So, Bank of America, you can't bullshit me.
I want everyone who has ever been burned by this bank and others to stop bending over and letting them fuck you over.  Remember it was YOUR bailout money that allowed all of these banks to buy their counterparts and grow to be so big that they can't do basic shit like removing a code from a loan.  It's not the computer's fault. It's plain and simple human error over-and-over again.  Codes don't magically jump onto computers themselves.  Some idiot has to put it there.
To the people from Bank of America reading this, a big fat New York City FUCK YOU. Fuck your bank. Fuck your mortgage lending department. Fuck your modification department.  Fuck your customer service.  Fuck your executives. Code 6 this bitches.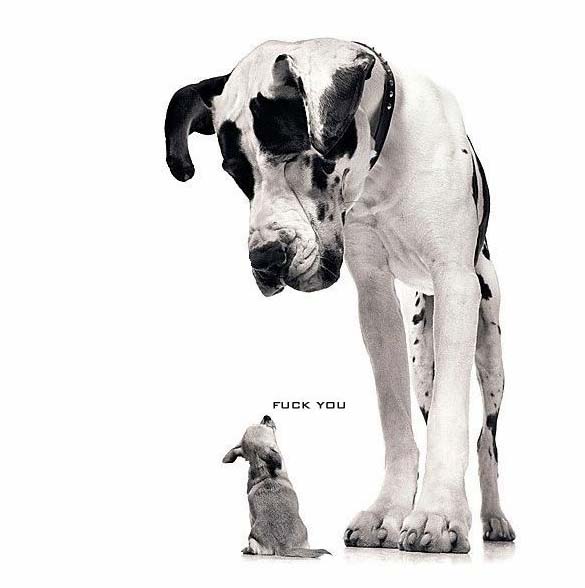 Help me make this go viral.  Hit one of those share buttons below and tell your friend about the steaming pile of horse shit that is Bank of America.  If you've got a story to share about a horrible experience with Bank of America, leave it in the comments below. Images are owned by their respective copyright owners.