Food prices have spiked to record levels since bad weather in many parts of the world led to millions of tons of crops being damaged. In 2010 there were floods in Australia, droughts in Russia followed by record snow storms in Canada and the United States. Add to that record high gas prices which are expected to continue to rise and we have the perfect storm for high food prices.
One of the basic things that I learned in economics was how supply and demand affects prices. This year we will have reduced farming yields and high food transportation costs with a growing population competing for food. My economics professor would be drawing curves all over the place, but there is a human consequence to these conditions.
Not only are food prices rising, but many people can not afford these new prices. According to the World Bank, the rise in global food prices may have already driven 44 million people below the extreme poverty line which the World Bank defines as living on $1.25 a day. That's half of the price of a one way subway ride here in New York.
The World Bank goes on to say that a rise of just 10% in food prices will push an additional 10 million people below the poverty line. This rise in food prices affect not just people outside of the U.S., but right here in our own back yards. I know that I have seen the lines at my local church growing longer and longer every month for the past year or so.
Even though you think that you might not be personally affected by rising food prices, or if you think that your local food prices have not risen, think again. While prices have remained the same, have you looked at the average package size of the products that you buy?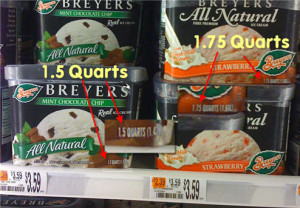 Manufacturers have been making things smaller but charging the same price. I'll give you two very easy examples: two liter was the standard size of a soda, it's now fallen to 1.5 liters; ice cream used to come in standard half gallon containers but the size has fallen to between 1.5 to 1.75 quarts. I've seen cucumber prices rise from 3 for $1 to $0.89 EACH in the space of two weeks. According to the grocer, they are being charged more for delivery and must pass the increase on the customers.
What can you do to combat this rise? Try to buy products that were grown closer to your area, grow some of your own food, shop in bulk, avoid brand names, and use coupons.
Is there anything that your family does to combat rising food prices?

This post was included in the Carnival of Personal Finance #305 hosted by Financially Digital.