It's time to share with you another way that I'm making some extra money online by building niche sites.  I love this series because it shows that no matter your situation, if you have some skill or interest in a particular topic, you can usually find some way to monetize it online!  That's the true power of the internet.  But on to how I'm making money.  This time it's with niche websites or blogs.
What Is A Niche Site?
For those of you not living in the web world, a niche site is usually a website or blog that covers one particular subject and nothing else.  Some would consider this site to be a niche site since it covers personal finance, but it's too broad a subject since we talk about everything from making money to paying off your debt.  Niche sites usually choose the deepest minutia of a topic and drill down to the barest essentials and cover nothing else.  For instance, a general medical website might talk about diseases.  A topical site might talk about cancer.  A niche site might talk about skin cancer.  A deeper niche site might talk about melanoma.
Finding My Own Niche…and Failing
I first learned about niche sites by somehow stumbling into Pat Flynn's site called Smart Passive Income.  He was challenged to a niche site duel by Tyrone Shum.  The goal was to see who could build a niche site from scratch and get it to make them some money.  The only rule was that they could not pay for traffic.  This duel started way back in August 2010 and I followed along intently.   The great thing about these two guys is that they updated everyone following along regularly and showed us their techniques for getting their sites up and making them money. Some other bloggers soon joined into the niche site duel and shared their own techniques as well. Pat Flynn's site is now making him about an extra $1,500 each month!  What could you do with an extra $1,500?!
Motivated by these posts, I thought of building my own niche site, but I really had no clue what to write about.  I looked around for a hot and trending topic.  At the time, bed bugs were a huge problem in New York, so I thought about doing one on bedbugs, but I really wasn't motivated and didn't put the effort into it.  In October 2010 I started building the site, How To Kill Bed Bugs Now (I've since deleted the site).   About a third of the way into building the site and adding articles, I stopped.  I just wasn't motivated enough and I didn't have any money to hire someone to do it for me.  I know that you're wondering, if you didn't have any money, how did you build the site.  Simple.  It was only $6.99 to register the domain (I caught a sale) and I already had hosting for this website, so I just slapped it under my existing hosting plan for free.  The template that I used was also free.  So, essentially it only cost me $6.99 and my time to build the site. But a half-completed site really won't make you money.
Thinking of building your own site? Put your perfect URL (that's the stuff after the www) in the box below and see if it's available. Test it out.
Take 2?
I continued to follow Pat in his duel and updates.  In the meantime, I was having problems with my tenant and since it was really popular on this site, I decided to build My Tenant from Hell (again only $6.99) to share those stories with you where I wouldn't have to censor myself since she made me want to curse a blue streak every time I wrote about her.  I didn't want this blog to become all about my tenant, plus I wanted other people to be able to share their stories and avoid the hell that I had gone through.  I built that site in January of 2011, I think.  I never though of it as a "niche" site per se, but that's essentially what it was.  In its first nine months of existence, the site made me over $400 and I updated it once per week, when I remembered.  I didn't promote it at all. Half of the fun it was that some of the stories came from you!  I don't even have to think about.  At some point, I got tired of updating a site constantly. I wanted to be lazy and make money.
Okay, so this niche site thing might just work.  What if I had 10 sites and they could each make me $100 per month?  That would be an extra $12,000 per year.  It was an ambitious goal and I have a short attention span, so I knew that I would never take the time to do that, but the potential had me thinking.  Okay, let's try this niche site one more time.  But again, what could I write about?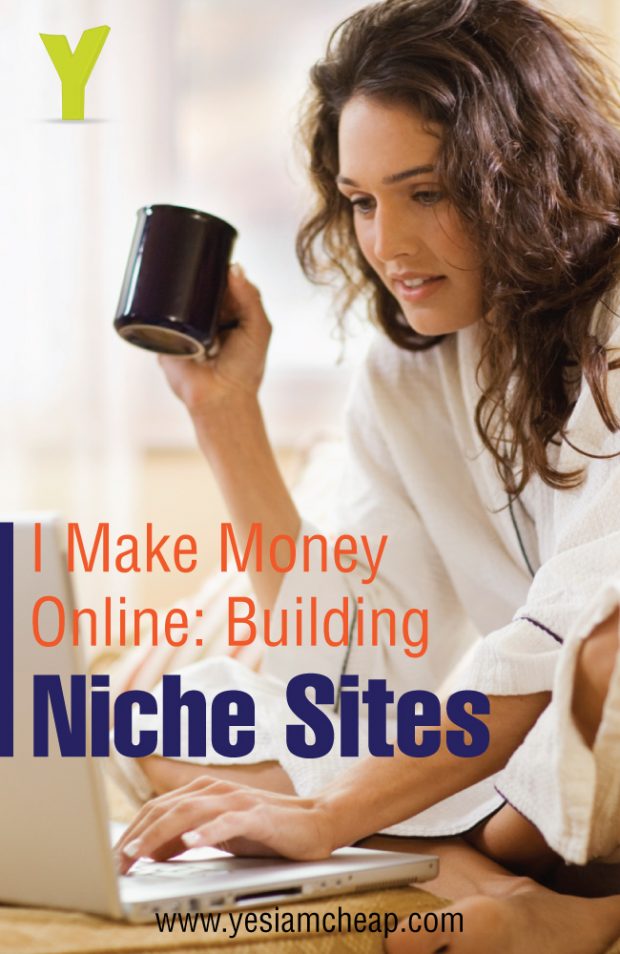 I took a different approach this time.  I came back to this blog and looked for the one article that made me the most money from Adsense advertisements.  For those of you wondering what that is, it's the ugly little advertisement block on the top right hand part of this page that you hate and some of you click on.  Every time you click on one of those (well, almost every time) it earns me money from Google. Every time someone comes to this site and an ad loads, it makes me a few coins as well. Okay, so which article was earning me the most money?  Funny enough, it was one short little article that I had thrown up on this site almost 7 years ago and forgotten about.  I hadn't done any research on the topic or anything.  I just shared some information that I though you would find helpful.  It turns out that many did find it helpful and it was ranked #1 on Google for it's topic.  Sweet!
I looked around on Google to see if anyone else was really writing about this topic and there were a couple of other sites that had some information, but no dedicated site…at the time anyway.  I wondered if this topic could stand alone as a site.  I figured for $8.99 (domain prices had gone up), I might as well give it a try.  I registered the site and literally spent two weeks putting articles up.  Funny enough, people started finding the site even before it was finished, and it started earning me money.  Okay, it was only $4.27, but that was about half of its cost, so that was good, right?
The first month that it was up it earned me $34.56.  Kaching!  I was in the plus. During this month that one site that I spend two weeks building back in 2011 will earn me almost $400 from Google alone. Ask me how often I've updated it since building it? I think I updated it once and then I paid a virtual assistant something like $100 to update it another year. Considering that I am not selling any products or direct advertisements, and it's 100% passive, that's pretty damn good.
Big Whoops!
One of the most important things about the niche site challenge was getting your site to rank high on Google for its search terms.  My site doesn't rank in to top 100 for its key words because no one has linked to it.   For those of you wondering why that's important, it's kind of like throwing a party and forgetting to send out the invitations.  If people show up and bring a gift it's totally random and by accident.  That's what I have done.
I need to go back and work on some search engine optimization and I should try building links that points to the site.   I haven't done that because: 1) I'm lazy; 2) I don't have much time in my day; 3) I'm too cheap to hire someone and; 4) It's already making me money.  Don't forget, I still have an article here on the same topic that's also making me money.  I know that my efforts will be directly proportional to the amount of money that I could make from the niche site.  I can easily see the site making me $1,000 every month once if I start building links, or from my example, sending out the invitations.
Let's Do This!
So, you want to build a niche site, but have no idea how? There are plenty of people that can and will do it for a fee! You can always hire a virtual assistant to do it for you. Virtual assistant fees can add up though and take more time and money than you need to spend. A lost of hosting companies now come with a site builder that basically lets you use a template to build your site quickly and pretty much for free. Listen, you don't have to be a web developer or some super tech geek to build your own site. You can actually have your site up really quickly leaving you nothing but time to make money on your site.
Lots of people do a ton of research to help them determine what subject matter would be best for them to build a site on.  You can do that.  If you choose to do so, I'll recommend this primer by seoMoz on what they are and how you can research. Personally, I don't even bother. You'll want this information when we talk about SEO as well below.
Alright, so you're ready to build your own site.  Let's do this!
Every single website on planet earth needs two things: a domain name, also called a URL, and a host.  The URL you're all familiar with; that's the stuff you type after the www.  Your URL is ultra important and can make a significant difference in how much traffic you get.  Think of your URL carefully and try to make it match your subject as much as possible.  If not, then make sure your URL is at least memorable.  My site, My Tenant From Hell is pretty memorable for both the name and the content.The second, the hosting company, is almost as important as the URL.  This is the company that holds all of the information that makes up your website.  I have used Go Daddy in the past but am switching to Blue Host for both their reliability and because of the price.  Listen, I'm cheap.  I'm not trying to pay any more than I have to for hosting or for a URL.  You can get both from Blue Host for cheap.  If you're just looking for a URL, GoDaddy has a sale right now for something like $5.99 for the first two years. If you do register your site, be sure to choose a private registration and hosting so that when someone looks up your site, they won't see your name and address and pop up at your house.
Once you've set up your URL and hosting, you'll need the backbone for your website. I like to use WordPress because it's free and it's easy to learn how to use.  Not only is it easy, but you can make the site look really professional without having to pay a dime or do some crazy programming.  I'm dropping some videos below so that you can learn how to work in WordPress from start to finish.
Alright, so you've set up your site; this is where the hard work begins.  You'll need to actually write stuff. Weird how that happens, huh? Content is where you'll make your money.  Google doesn't want sites that are basically just one or two page shells stinking up their search engine.  You'll have to dedicate some time making sure that your site has some content around your topic.  Don't just steal the content from somewhere else; take the time to write you own original content and make it good too.  Don't just a page on your site with two paragraphs and call it a website.  Scroll up. Do you see how long this one article is? Maybe you won't need something this long, but you will want some content.
It's now time to figure our your monetization strategy.  You can make money with a niche site in a number of different ways.  I do the most passive thing which is just dropping an ad block onto the page, but you can do much more.  The easiest, most default thing to do is drop a Google Adsense ad in. They're free and easy to set up.  Plus, Google pays out as soon as you hit $100.Google isn't the only game in town though.  There are a multitude of networks including Media.net, Bidvertiser, Blog Ads and a host of additional companies. Whatever you do, don't sign a contracts with any network to make then your exclusive partner.  I don't like being locked down and neither will you.Affiliate sales is another way to make money. There are tons of affiliate products and networks out there.  Affiliate networks basically pay you money when someone clicks on your personalized link to go over to the Affiliate site and typically either make a purchase or sign up for something.  The two that I like the most are Commission Junction and Amazon Affiliates.  If you're interested in selling information products such as eBooks, you can find them at Clickbank.You can also offer a ton of different products that is targeted to your particular niche.  Photography site? You might have cameras or Groupon classes for photography up on your site from an affiliate partner.  Football? What about those fantasy sport sites? You get the idea.
Alright, you've figured out how to make money. Let's go back to your site.  You'll need to make sure that Google can find it.  You'll hear terms like "SEO" which means search engine optimization branded about.  These days, I honestly don't pay much attention to that but you can.  SEO just helps the search engines find your site and rank it higher than other sites for your site's topic focus.  A good plugin like Yoast can help with that.  Don't waste too much time though.  You'll also want people linking to your site.  The more links – and I mean quality links from quality websites – to your site the better. Links to your site shows that someone trusts you enough to want to intermingle their site with yours.  There are different ways to get back links and I'll leave you to search how to do that.
Depending on your site, you might want to consider advertising.  Sounds counterproductive, right? But, in some niches you can spend money to make even more money.  I'm fond of both Google AdWords and Facebook Ads where I can target particular key words and individuals.  You don't have to do this, but it might help.
I'll be updating this article as time allows but now you too have the basics on how to build a niche site and make money from it.  Sites and links mentioned in this article may contain affiliate links. Why wouldn't I monetize THIS article? Come on.