The Great Recession didn't just bring us the Tea Party, foreclosures and a return to frugality.  According to the Pew Research Center the Great Recession decimated the net worth of blacks and Hispanics, further widening the wealth divide between whites and minorities.  Up until the housing meltdown, blacks had 10 cents of wealth for every dollar of wealth held by whites. The median wealth of white households is now 20 times that of black households, and 18 times that of Hispanic households.  This gap is the widest that it has been since the government began tracking and publishing its Survey of Income and Program Participation 25 years ago.
According to the analysis conducted by the Pew Center, from 2005 to 2009, the inflation-adjusted median wealth fell by 66% among Hispanic households and 53% among black households, compared with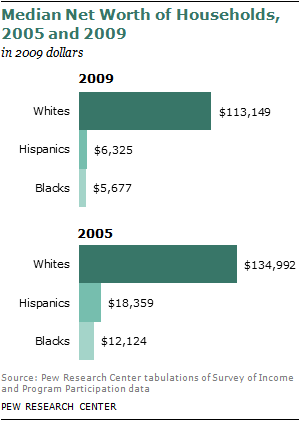 just 16% among white households. What's the cause?  The main culprit was the meltdown of the housing industry.  It appeared that minority groups held more of their net worth in the value of their real estate holdings.  When the housing bubble burst and the value of homes plummeted, so did the net worth of blacks and Hispanics.  But whites were not spared the same fate.  While their housing values also declined, the value of their homes were always higher than minority groups.  Among white homeowners, the decline in home value was from $115,364 in 2005 to $95,000 in 2009. Among black homeowners, it was from $76,910 in 2005 to $59,000 in 2009. Hispanics suffered an even worse fate with the value of their homes falling by half—from $99,983 to $49,145 – however, this was mainly because Hispanics held a greater percentage of homes in big housing bubble areas such as California, Florida, Nevada and Arizona. Also, unemployment during the recession rose more for Hispanics and blacks than for whites.
The wealth gap was further exacerbated by how these groups held other assets.  Since whites also traditionally own a higher percentage of stock investments such as 401(k)'s, IRA's, mutual funds, etc., their net worth recovered somewhat as the stock market rebounded.   The net worth of Hispanic households decreased from $18,359 in 2005 to $6,325 in 2009 – 66% drop.  The net worth of black households fell from $12,124 in 2005 to $5,677 in 2009, a decline of 53%. The drop in the wealth of white households was modest in comparison, falling 16% from $134,992 in 2005 to $113,149 in 2009.  Asians had traditionally been the leaders in net worth, however, they were also hard hit in the housing bubble and saw their average worth decline from $168,103 in 2005 to $78,066 in 2009, a drop of 54% – enough to move them from first to second place.
Even more troubling than the large decline in net worth, the study found that about a quarter of all Hispanic (24%) and black (24%) households in 2009 had no assets other than a vehicle, compared with just 6% of white households.  These  percentages increased slightly from 2005.  Minorities have increased their unsecured debt during this period as well.  Among Hispanics there was a 42% rise in median levels of debt they carried in the form of unsecured liabilities (credit card debt, education loans, etc.). The median unsecured debt rose by 27% for blacks and 32% for whites.
What does this mean? This study shows how important it is to:
Diversify your income streams
The Hispanic unemployment rate (non-seasonally adjusted) increased from 5.9% in the fourth quarter of 2007 to 12.6% in the fourth quarter of 2009. The black unemployment rate increased from 8.6% to 15.6%. The increase in the unemployment rate for whites was much less, from 3.7% to 8.0%.  It is incredibly hard to overcome a loss of income for an extended period. In inflation-adjusted dollars, the median income of white households fell 4%, from $56,814 in 2007 to $54,461 in 2009. The loss in income was greater for minority households. Median household income for Hispanics decreased 5% and the income of black households dropped 7%. Lost jobs, record long spells of unemployment and dwindling incomes—are likely to have had an impact on household net worth above and beyond the direct effect of falling asset prices.
Not consider your home an investment vehicle
Nearly two-thirds (65%) of Hispanic household wealth in 2005 was derived from owned homes. No other asset accounted for more than 10% of total net worth.  For blacks only one other asset—401(k) and thrift accounts—contributed more than 10% at the time.
Diversify your investments
The S&P 500 was down about 11% from 2005 to 2009. Thus, white households were not as affected by the stock market crash as minorities were by the housing crash. While the recession officially ended in 2009, the housing market has remained weak. The stock market, though, has rebounded.
Reduce your unsecured debt and increase savings
Even as the net value of most assets was on the decline, the unsecured liabilities of households (credit card debt, education loans and other loans not secured by assets) were on the rise from 2005 to 2009.  Turning this trend around begins simple changes such as paying with cash and opening a savings account.  According to the study more than 80% of whites and Asians own interest-earning assets at financial institutions, compared with about 60% of Hispanics and blacks.
The Reverend Al Sharpton had this to say,
"Despite what many economists may have us believe, the poor and working-class are still struggling to gain employment, provide food and clothing for their children, maintain a roof over their heads and afford health care. And now there is no question that Blacks and Latinos are lagging generations behind Whites when it comes to wealth."
Indeed, there can be no question that this study highlights differences that might take a generation to overcome.  Since Hispanics and blacks are the nation's two largest minority groups, making up 16% and 12% of the U.S. population respectively, and growing, this is not just an ethnic issue, it is an American issue.  As Congress bickers over the debt ceiling and a budget, they should keep in mind that many Americans have already hit financial rock bottom and are struggling to survive.
This article and other can be found at Yes, I Am Cheap where Sandy is trying to get rid of over $100,000 in debt while learning about finance and sharing some money making tips along the way.