Because apparently every post I do for this website involves sports [Editor's Note: No, you wrote one about Las Vegas…which involved sports.], let's talk about a baseball player for the Toronto Blue Jays, Melky Cabrera. Baseball fans will remember Cabrera as the guy who tested positive for performance enhancing drugs during the middle of the 2012 season, netting him a 50 game suspension. This suspension ended Cabrera's season, and made him ineligible for the batting title, a race he led up until his suspension. Although he was a risky signing, the Toronto Blue Jays took a chance on Cabrera last offseason, signing him to a two year, $16 million contract.
Melky has battled injuries this year, and the Blue Jays recently put him on the 15-day disabled list. Cabrera is healthy again, but it's a common practice to get a formerly injured player into a few minor league games as a way to ease back into real game action. This is why Melky Cabrera found himself at a Chili's at Port St. Lucie, Florida on a Friday night.
His waitress was not happy with him. From Deadspin: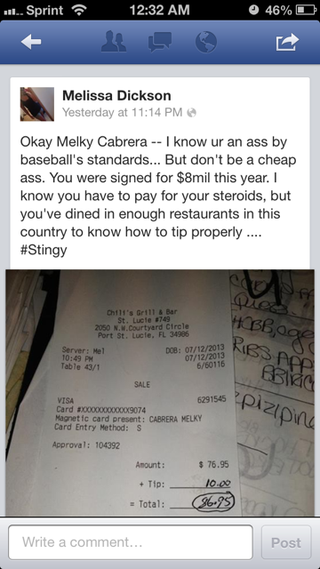 Melky's server, a Ms. Melissa Dickson, was not happy with his tip, and made sure all of social media knew about it. She posted it to her Facebook account (as seen above) as well as tweeting several times about it. Dickson obviously thinks the tip is a little on the small size, and is OUTRAGED.
(Upon further investigation, she has deleted the offending tweets and Facebook posts. She obviously realized all this was a bad idea.)
Let's talk about the tip for a minute. According to social norms, people are supposed to tip 15-20%, at least according to my extensive 42 seconds of research on Google. Cabrera's tip was a little below the standard, but not much, coming in at a mere 13%. Oh, the humanity! I'm not sure how long Dickson has been a server, but I'm willing to bet this is the first time she's ever taken a complaint about a 13% tip to social media.
Hopefully we can all agree what Dickson did was over the top. By deleting the offending posts, she's all but admitted it herself. She comes off looking more cheap and petty than Cabrera does, complaining about a tip that was a mere $2 short of what society has deemed acceptable. She obviously thought Cabrera owed her a generous tip because of his wealth, and for no other reason.
Let's go off in a different direction. Should rich people tip more?
Maybe they should. After all, an extra $20 is nothing to someone like Cabrera who's making millions of dollars a year. It would be painless to give her a little extra, and I'm sure the generosity would be greatly appreciated by someone who could really use an extra $20. Most waitresses aren't exactly making the big bucks, remember. She's probably having legitimate financial problems, while Melky is counting his millions despite testing positive for steroids a few months ago. Maybe Cabrera should have shared the wealth a little.
Let's look at the other side of the argument. Cabrera went in for food, and we have accepted social customs when it comes to tipping waitstaff. Sure, his tip was a little on the short side, but not outrageously bad. Perhaps he's just not very good at math, or perhaps he just does what many of us do, and that's add an amount to the check that seems pretty close to 15%. He followed the rules and gave her some extra money. He did his part, what's the problem?
Yeah, he gets paid a lot of money to play baseball, but why should that have any bearing on this? A waitress shouldn't have any say on how anybody handles their money. The only recourse she has is to give him craptacular service the next time he comes into the restaurant. Waitresses have no claim on anyone's wealth just because they happened to win the lottery of getting a rich customer. And if they don't like the world of non-guaranteed income, maybe get out of an industry that is so dependent on getting paid by the whims of your customers.
Readers, chime in. Do you think rich people should tip more? Where exactly is the line between "kind of wealthy" and "rich enough to tip 40% of the bill every time?" And on a scale of 1-10, how badly do you want to go down to a Chili's in Florida and stiff Melissa Dickson on her tip?