On Saturday, September 10th I attending the second in a series of financial workshops being held by the Rainbow PUSH Coalition sponsored by Chevrolet. These one-day Money Matters workshops are absolutely free and are designed to educate people of color about various financial literacy topics.
The workshop that I attended was held at the Harlem Commonwealth Council in Manhattan.  I dragged my little sister who just started college along with me, because honestly, how much were you taught about money when you were eighteen?

The workshops kicked off with my friend Dominique Broadway (@MsFinanceCoach) who spoke about budgeting including her story of buying her own home at age 22.  Dominique worked for a major brokerage firm directly after graduating from college.  The firm only worked with high-net worth individuals.  This exposure to how the super wealthy spent their money made her super focused on crafting a working budget to ensure that she could reach her own financial goals.  Dominique is a millennial who spoke directly to people my sister's age which was awesome for the younger people in the audience.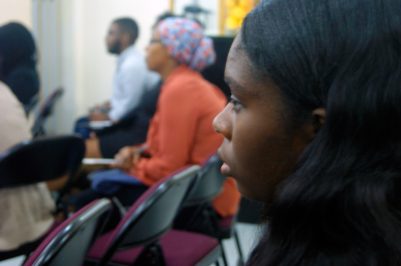 Next up was Bill Cheeks (@wpc1945) who served as the Vice President of Consumer Education for Equifax Inc., the largest data management company in the world, from 1995 to 2001. Bill is also the President of ABBA Associates Inc, a fiscal management consulting firm that provides counseling and conducts seminars nationwide to help consumers map a successful life plan.  Bill came with a ton of information on the components of your credit score and how you too could attain a perfect 850 credit score and maintain it.
Bill was clearly incredibly knowledgeable and involved the audience by piggybacking on some of the financial mistakes that Dominique had made in her early 20's. Bill left the audience with actionable tips for increasing credit scores and for maintaining a positive credit profile for life.  He also gave advice to individual audience members who had a multitude of questions on a wide variety of credit related items.
We were then given a break where brunch was served and audience members were given an opportunity to interact with the experts and network with each other.
The second set of sessions brought another wave of dynamic and knowledgeable speakers.  First up was Gail Perry-Mason (@Waistreduction) a Senior Director of Investments at Oppenheimer & Co. Inc.  Gail told her inspirational story of bouncing through foster homes from birth until her mom finally adopted her.
"A doctor came over to my mom's house one day after I was adopted and she told him I wouldn't stop crying," Perry-Mason recalled. "He said, 'The only way to stop her from crying is to take those braces off her legs, and love her, hold her and talk to her.' That's what she did and now I never ever shut up."
Gail gave basics on investing starting with just having a secret savings account. "You need a bank account with Jesus – one only him and you knows about."
Gail was followed by financial aid guru Jessica Brown who is the former Financial Aid Counselor at Howard University and founder of College Gurl (@collegegurljb). When Jessica spat out the statistic that people owe more in student loan debt than in credit card debt, the entire audience was shocked.  It's sad, but true.  Jessica gave an amazing array of resources for obtaining the maximum amount of student loan possible and even some simple tips like being extremely nice to the financial aid counselors, that can land your student free money.  Her talk alone had my little sister in rapt attention, taking plenty of notes.
She said, "There are many parents that bring their children to college and when they get their first the bill, then they're looking at us as college professionals like, "How are we supposed to pay for this?" As a first year college student, I have stressed to my sister the importance of minimizing the amount of student loan debt owed.  Jessica not only back this up, but stressed the importance of throwing small payments to your loans before you even begin college.
Jessica also have a multitude of resources for finding FREE money for college including some apps that work right from your phone.  This session alone is worth its weight in gold for the potential money that your college age student can save.
The final speaker was Valeisha Butterfield-Jones (@Valeisha), CEO of Women in Entertainment Empowerment Network (WEEN).  She is also the Head of Black Community Engagement at Google.  Valeisha stressed the importance of having an entrepreneurial mindset, even if you work for someone else.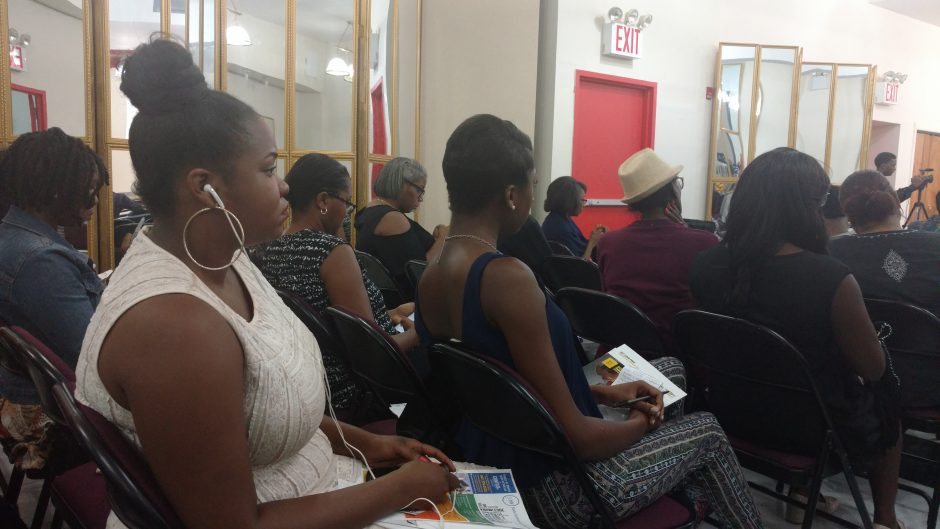 Valeisha told the story of her amazing rise from someone who e-mailed Russell Simmons on the spur of the moment pitching herself as an intern to rising up to the Vice President level in just five years.  According to Valeisha, you must have something to offer at all times and you must look at everything that you do within your career with purpose.
I had an amazing time at this workshop and connected with a few of my own friends.  In the break I had time to chat with the speakers and other attendees to network for myself as well.  These workshops are amazing an a MUST attend for anyone who would like to further their financial lives.  The events are being held across the country with Detroit being the next stop.  I've listed the event dates and times below.
Detroit, MI – October 1 at Wayne County Community College (Frank Hayden Room, 801 W. Fort Street, Detroit, MI 48226)
Atlanta, GA – October 22 at Morehouse College
Washington D.C. – November 12 at Howard University
Oakland, CA – December 3 at Abyssinian Baptist Church
At the end of the event, a raffle was held and I won one of five Galaxy Nexus devices!  That was a complete but welcomed surprise.  We were all also given three different workbooks with a ton of information on credit, investing and entrepreneurship that can easily be utilized at home. If you attend, expect to walk away from the sessions with lots of tools and resources that will help support stronger financial health.
Overall this was a fun and educational event filled with family, fun and finances.  If this event is in your own city, you should absolutely go!  Register for the Money Matters workshop in your area by going to http://www.rainbowpush.org/index.php/moneymatters and if you would like to see the live stream of the event that I attended, go to http://rainbowpush.org.
This is a sponsored conversation written by me on behalf of Chevy . The opinions and text are all mine.