I read an actual newspaper every day (remember those), and every day without fail there is a two page ad from one company basically begging you to send in your old, broken or unwanted jewelry for cash. It occurred to me to me that I've been seeing a lot of these ads lately either on television, on the internet or in print. It made me wonder why this business is suddenly so visible.
As you may know, gold hit a record spot price of $1,916 per ounce in 2011. With more people running towards investments in precious metals to hedge against the volatility of the dollar valuation, investors speculate that gold might hit a record price in 2012. As the graph below shows, if you have consistently invested in gold, your portfolio should be a source of pride for you.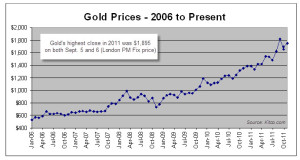 But back to those commercials. Why are we seeing so many of them. Simply, the industry finally recognized that there are millions of people who have no idea how much their valuables may be worth when melted and combined with unwanted jewelry from others. Since the price of gold has reached such elevated levels, the profit margin for a company collecting and melting gold back into bullion form is also incredibly high. These days, practically everything that has ever come in contact with gold particles or precious metals is now fair game. That means your old computer, GPS, cell phone, iPod, and yes, your jewelry are worth far more than you might think.
I found a video on a chemical company whose business is taking your old unwanted stuff and literaly turning it into money.
So don't sell your self short. If you are interested in selling your old jewelry, please read this article by Mint called
What You Need to Know About Selling Your Old
 Gold. The mail order of jewelry party people might not be giving your the best price for your jewelry. Surprisingly, you might get the best price at a good old pawn shop.